One of the biggest frustrations we hear from you has to do with driving traffic to your advisor or insurance website. And truly, it's a valid concern: what's the point in even having a website if no one's eyeballs are ever going to grace it with their presence.
The point is two-fold:
When prospective clients specifically seek you out online, and they will - it's the first thing they'll do after receiving your name/business card/phone call - you need to be there. If you don't exist online, you might as well not exist in real life, and dem's the breaks in this cold, modern world.
Some traffic will find you regardless of whether you're actively driving it. It might not be a lot, but without a website you're effectively turning away business. And that's just bad business.
A website is at once a passive object and an active agent. While it may seem counter-intuitive, you need to market your top marketing tool. Your website can only generate you more leads if you generate it more traffic.
Advisor's Ed: Driving Traffic to Your Website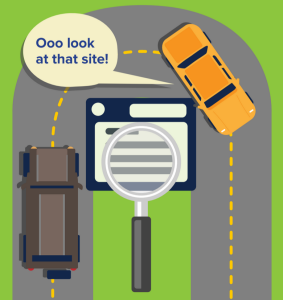 Since it can be such a frustrating, and at times seemingly fruitless endeavour, this month we've taken everything we know about driving traffic to your website and created our longest and most comprehensive ebook yet.
So fasten your seatbelts and get your foot off the break, it's time to drive traffic!
In the ebook we'll cover such topics as the absolute need for incentive on your site, list all the actionable traffic-driving tactics ever, and convince you to do them with informative tidbits like:
"As an inbound marketing strategy, blogging costs less than any outbound activity, and according to a 2010 study done by HubSpot, business-to-client companies (that's you!) that maintain a blog generate 88% more leads per month than those who don't."
And that's just a superficial scratch on the paint job, if you know what I mean (and I think you know what I mean).
Download the complete Advisor's Education guide: Driving Traffic to Your Website - it's not only helpful but freeeeeeeee...