What is Google My Business?
Google My Business (GMB) is a free tool provided by Google to manage your Google presence; Google Search, Mobile Search, Local Search and Google Maps.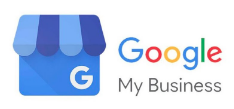 GMB is a tool that allows users to get all the information they need about your business in one handy location; such as your address, opening hours, contact information, website link, photos of your business, and more.
5% of Google My Business listing views result in a website click, call, or direction request
Between Q4 2017 and Q4 2018, direct searches grew by 38%, while website clicks from GMB listings grew 29%
You might be thinking, "shouldn't users go to my website instead of getting all the information they need from a GMB listing?"
Yes and no.
The idea of GMB is that they don't have to go to your website. For example, if someone is looking for your address it will appear in your GMB listing and they can click the map and then click directions/start navigation. This is way easier for the user than going to your website, then navigating to your contact us page, remembering your address then typing it into Maps.
34% of searches get no clicks at all.
This means they're finding what they need in the results page, making it more important than ever to have your business information listed in your GMB profile.
Source: Moz
If the user isn't able to find the information they need, then your GMB listing provides a link to your website for them to find exactly what they need.
Google My Business has essentially replaced the Yellow Pages directory.
Why is Google My Business Important?
Appear on the right hand side of the search results page
This is prime search results real estate! This will occur when someone searches for your business name directly.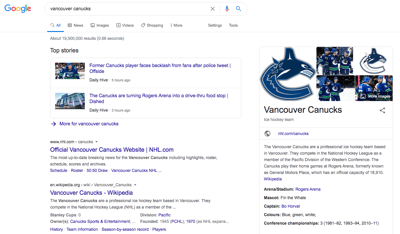 Appear in the Google "three-pack"
When the user does a search based on keywords, such as 'financial advisor near me', your business will show up on the map and the table below. This is great as the user will be able to see your business information as well as easy links to your website or directions to your office.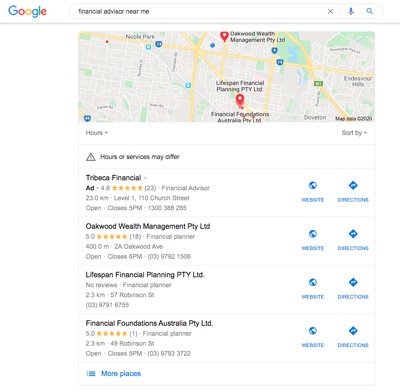 Appear in Google Maps
Your GMB listing is linked to Google Maps. This means that when someone does a search directly in Google Maps that your business will show up. Similar to the three-pack, this provides information about your business as well as a link to your website.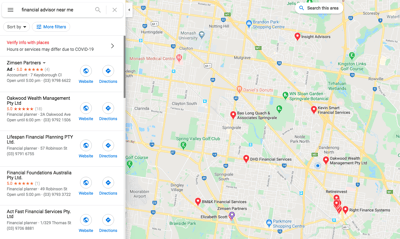 Control your information and service offering
When you manage your GMB listing you have the opportunity to control the information on there as well as the services you offer. When you have more information available it helps build credibility of your business to the user when they're conducting searches. Users like to be able to see as much information as possible with the least effort needed to find it.
You can still have a GMB listing if you don't want your address shown
If you work from home and don't want your home address shown, that's OK! You must provide the address to Google so they can send you the verification code (their way of confirming you are where you say you're located), but you don't have to have the address visible on the public listing.
Improves your SEO Visibility
Website authority is one of the key factors that contributes to SEO (search engine optimization, which is appearing in search engine result pages). One way to build authority is to demonstrate to Google that you have a genuine and trustworthy business. Part of the process to set up a GMB listing requires a verification code to be physically mailed to you, which proves to Google that you own a legitimate business.
Ability to preview and link articles from your website
You can share blog articles to your GMB listing. This has two main benefits:
A great way to promote your popular articles and provide a reason for users to click through to your website.
Increases inbound links to your website which helps your SEO strategy. The more reputable inbound links you have, the better (this also includes social media links to your website).
It's FREE
If the above isn't enough to convince you that you need a Google My Business listing, this one should tip you over the edge… it's FREE! It doesn't cost anything to set up a GMB account, and the benefits make a clear case on why it's important for your business!
How to set up a Google My Business account
Before you create an account, it is recommended to Google your business first to see if you already have one that needs to be claimed. This means Google has seen that there's a business and semi-set it up, but it needs to be claimed and completed.
Step 1. Log into your Google account then navigate to GMB
Sign into your Google (Gmail) account then head over to https://www.google.com/business/
Click 'Manage Now'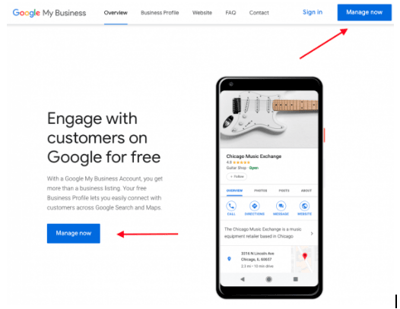 TIP: We recommend setting up a dedicated business Google account to allow for easy access from anyone in your company.
Step 2. Create Your Business
Enter the name of your business and follow the prompts. Google makes it very easy to follow the prompts and set up.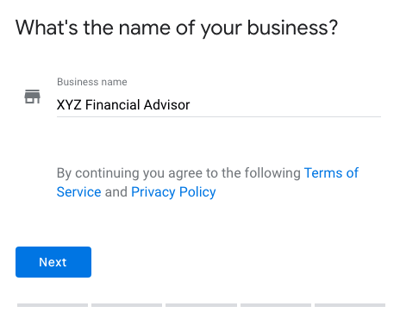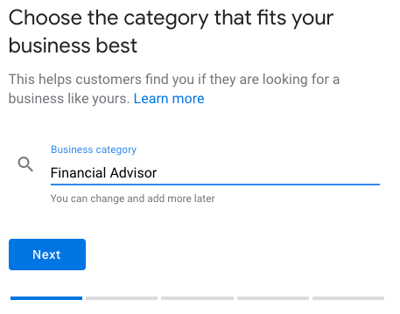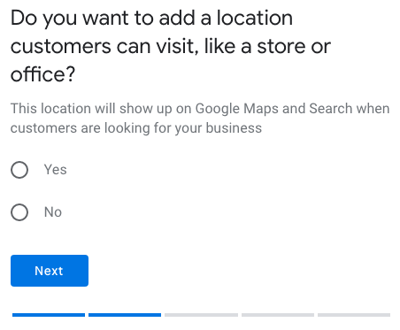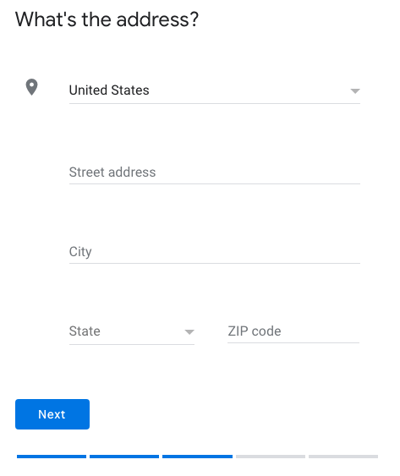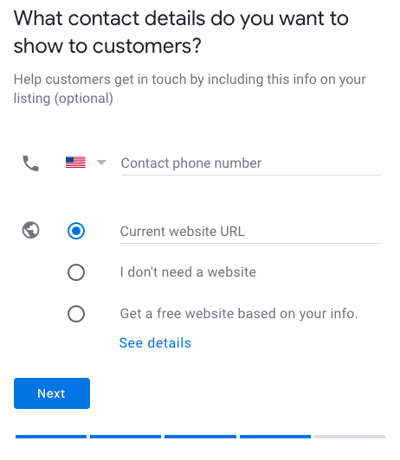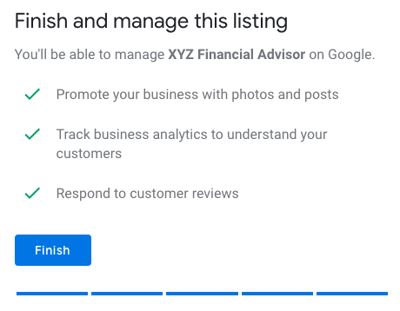 Step 3. Verify Your Business
Google will ask you to verify your business through a postcard. In some instances you will have an option to verify via phone or email and that option will appear if you are eligible.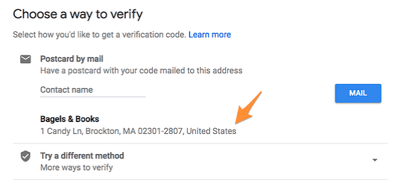 Step 4. Optimize Your Profile
Add information such as the area you serve, hours of operation, services offered and website URL will help ensure customers have the right resources right at their fingertips.
Add extra information including profile photos, business photos, videos and supplementary information. This adds a personal touch and gets increased viewership of your profile.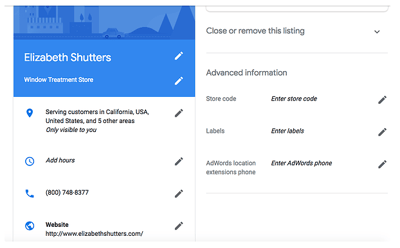 Step 5. Analyze how your profile performs
It is common for clients to leave reviews about your business on Google. Where possible, engage with customers by responding to reviews. It is recommended that you speak to your compliance team in relation to reviews and how to respond, ensuring you adhere to industry regulations. Ideally you can respond with a 'thank you for your kind words, you are a pleasure to work with' style comment.
Download the Google My Business app for Android or iPhone/iPad to ensure you have easy access to posting and analytics.
We can set up and/or optimize your Google My Business listing as part of our SEO Add On Package. Click here to find out more.
---
ABOUT ADVISOR WEBSITES - A digital marketing platform designed for Financial Advisors, helping them grow their business through a series of marketing tools and services while seamlessly meeting compliance requirements. In addition, the Advisor Websites platform offers a selection of effective and proven website frameworks that are personalized to reflect individual businesses and brands.