CEO Panel Webinar Recap:

Strengthening Client Relations & Increasing Engagement for a More Successful Practice
Last month we gathered the best in the FinTech industry for an educational discussion on how to strengthen your client relationships and engage with your audience successfully! In case you missed it, here's a recap of the event's highlights and key takeaways.
Learn From the Best in the Industry! The CEO Panel:
Brian McLaughlin




CEO/CTO of

Aaron Klein


Co-Founder and CEO of

Adam Holt


CEO of



Alex Wingert




President of




Watch the recording of the CEO Panel Webinar HERE!
Client Journey Overview
Before jumping into specific questions for our panelists, Alex Wingert President of Advisor Websites outlined the client journey and what this would look like specifically for financial advisors.
In order to highlight the stages within the client journey, we created a basic persona of 'Molly Retiree':
At the top of this graphic, you're able to see the stages that Molly will go through from discovering she needs a financial advisor to the point where she is a loyal client.
On the left-hand side, we have the first stage of the client journey, the 'awareness' stage. It's here that Molly recognizes her problem and the need for a solution (i.e. financial advice). Molly came to this conclusion through a life event that made her realize that she's at a point where she would like to start planning for her retirement.

In the next stage of her journey, Molly is in search of a solution to her problem. Here she is actively interested and evaluating her options, looking for a financial advisor that can help her plan for retirement. In today's world, what is the first thing most consumers do when looking for a solution?

GOOGLE!
That's right, at this point in the client journey, it's likely that Molly will turn to Google to search for Financial Advisors. Especially as we find ourselves in this current pandemic with social distancing practices becoming our new normal. Traditional methods of in-person networking are becoming much harder. Even so, referrals in professional services are still very strong! Regardless if Molly has received a referral from a friend or family member, she's still likely to Google the Advisor before making her purchasing decision.
After doing some research, Molly lands on a financial advisor website that looks promising to her! Their website has caught her attention, but how can advisors ensure that they can continue a conversation with Molly even after she leaves their site?
Here's what Adam Holt, CEO of Asset-Map had to share about your digital presence:


"Digital reputation is so critical, you have to be intentional about it. People are using [your website] as validation. Even if I get a referral from my mom or my buddy or my CPA, I would still check them out [online] to validate how I felt about their presence."


"That clearly can't be the end! Getting the customer to start having a conversation including digitally is really critical."
So how can we continue conversations with leads on our website? Offer them something of value in return for their contact information!


A great example of this is Asset-Map's, Discovery Portal & Riskalyze's 'What's Your Risk Number?' lead generation tools.


Here's how they work!
Adam Holt, CEO of Asset-Map:
"A unique link for every advisor, it can be turned into a QR code and can be printed on your business card. Effectively a client can follow the link and after 15 mins they've put in enough high-level data that they can build a whole Asset-Map. So the advisor gets the full picture of their assets, liabilities, family, insurance policies on one page and then determines how to continue that conversation."
"The key to that is to actually give a deliverable. So if you don't give something back to the consumer, and they're giving you some insight into them, then you've missed the opportunity to actually engage them so that you can continue the conversation."
Aaron Klein, CEO of Riskalyze:
"The 'What is Your Risk Number?' question can be a great engaging question to turn website traffic into an actionable lead. In my mind, you really do need to have on your website a variety of different ways [to engage leads] because you have a diverse array of visitors who are arriving at the top of that funnel. So you are going to have some people who are willing to give you their email address to access some resources and maybe stay in touch or learn more about your firm. You will have some people who say 'call me' right now and don't want to engage in any other process. And in between those two extremes, you'll have kind of discovery tools."
"What we do with 'What is Your Risk Number?' and frankly all these tools you could have on one advisor website and you have multiple modes for an advisor to come in and engage with you."
"I totally agree with what Adam said, you have to give them something. In our case, it's a risk number. [Which says] "Well, this is who you are", and intriguing them to go to the next step and meet with the advisor and figure out if their portfolio is aligned with that risk number."
Moving through Awareness, Interest, and Evaluation Stages
Molly has filled out a 'What is Your Risk Score?' on the financial advisor's website, now how will an advisor communicate with her further and provide initial value?


Leveraging technology to manage and nurture relationships past this point in the client journey is crucial! This landscape is also shifting in the wake of the current pandemic. For advisors who have replied on in-person practices, strengthening client relationships past this stage in the client journey without technology has become a struggle.


Brian McLaughin, CEO & CTO of Redtail CRM shares with us more about how your website leads and client information can be captured effectively using a CRM:
"People start adding in a lot of the blanks [when they interact with an advisors website through forms or tools]. So while we might have basic contact information for Molly, now we are starting to create her family, kids, work, linking all this information up."
"Then we start adding other pieces of the CRM, we can add an automated workflow. We can begin a client experience journey. So they start having a regular process in which [an advisor will] engage with the client".
"You can send them a letter, or email them, and add them to various lists for marketing. If we are linked up with Asset-Map or Riskalyze [on your website] we will get more information from the prospect like their Riskalyze number."
"Speak is also a great tool (Redtail's text messaging tool), at this point, we may start texting the client - which has been hugely popular this year especially as communication has shifted to online 'virtual everything'. Real-time information through text messaging is massive! All a sudden I can send my client's services agreement over to them via text."
"We really start gathering information on Molly at that point in the journey. All that data can be collected and analyzed."
All of these tools really work seamlessly together and will provide Molly with a great experience as it shows her that as an advisor you already know her and have already provided value!
If you're doing stuff like this you will have an upper hand over your competitors. Referral may be the strongest prospecting tool for financial advisors, but if you're doing all this, it will increase your chances of landing more business.


Communication does not stop here! We want to engage with our clients through their entire lifecycle.
Brian McLaughin, CEO & CTO of Redtail CRM:
"That's one of the things we do over at Redtail, we create a no contact report. So you can create touchpoints to reach out to Molly in 60 or 90 days, to ensure we don't forget to touch base again."
"If you're dealing with 100 clients and things are busy and crazy, it's nice to have that pop-up [reminder] that says 'hey its been 27 days since you talked to Molly'."
Getting to the Loyalty Stage with Your Clients
Now that Molly is on board, what's next? How can we use technology to ensure Molly and her family stay with us for generations to come?
Here's the panelists' advice!
Adam Holt, CEO of Asset-Map:
"When I talk to fellow advisors about this, we all know what we need to do. We all know that we want to reach out and what the idea is but executing is a whole other story. And then we get this other feedback point which is 'if I automate it too much it won't be real so I'm just not going to do it'."
"All of us [companies on today's panel] have focused on real simple, scrappy but meaningful ways that we can engage with customers on an ongoing basis. It doesn't have to be so complicated."
"The key is to get some scrappy things done, because done is better than perfect!"
Staying on top of communication through your website is another way to ensure your clients remain engaged with you. For example, as we experienced market uncertainty throughout 2020. A lot of advisors received an influx of questions from their clients all at once. Your website is a resource to share your commentary and reassurance on what is happening in the market and any other market insights you have.
Even when markets are not experiencing instability, if one or two of your clients has asked you a similar question, chances are other clients are wondering something similar. By creating a post, you're now able to share this with 30, 50 or more of your clients. Sharing this information before they've even asked shows your audience that you're listening and on top of any changes that might be occurring in the market. In the long term, this translates into trust and retention.
Another added benefit of communicating through your blog is that it may spark additional questions with anyone who views your website. Prompting them to get in contact to continue the conversation with you.
Check-out this blog to learn more about Writing Content that Converts Leads.
Aaron Klein, CEO of Riskalyze:
"When I have a financial or tax advisor (I hope no one gets their feelings hurt from this), I'm not dying to hear from them every week. However, when certain things are happening either in life, business, taxes, etc. That's when I need them and it can be really tough as a financial advisor to know when those moments are."
"This is what we designed behaviour Check-Ins to do. You can set this feature on either a monthly or quarterly basis. It's a very simple two tap survey: 'how are you feeling about the financial markets, positive or anxious? And 'how are you feeling about your financial future, confident or concerned?'"
"Provides the advisor a heads up that this client may need a call, instead of randomly calling through my contact list. Helps advisors be proactive."
Preferred Methods of Communication
Video jumped from 7% usage amongst advisors in 2019, to 38% in 2020. What will happen in 2021?
General consensus among all of our panelists was that video communication with clients is here to stay! Even more so, moving forward from 2020 having virtual communication options within your practice is now an expectation of the client.
Here's more on what they had to share:
Aaron Klein, CEO of Riskalyze:
"[Another factor of the pandemic] is many people are moving states and not wanting to change their advisor. Making video communication necessary."
Adam Holt, CEO of Asset-Map:
"COVID has established the expectation that you are able to work in all modalities. Even the elderly are now becoming comfortable with video conferencing as a result of the pandemic."
"That may be a challenge for some advisors is creating a customer experience that is consistent through all environments."
Help Clients Grasp and Retain Relevant Info
According to Asset-Map's white-paper 'Improving Client Relationships Through Data Visualization', only 38% of advisory clients feel "extremely confident" they can leverage their advisor's information to make good investment decisions.


It's important for advisors to be able to communicate complex financial information. If you have a mountain of data, how can you break it up into digestible pieces for your clients?
Adam Holt, CEO of Asset-Map:
"One of the things that we've been trying to tackle is the challenge of delivering financial advice when there's just so much to talk about."
It's a delicate balance of not overwhelming the client while sharing the 'valuable and need-to-know' information. The key is digestible chunks of information.
Adam Holt, CEO of Asset-Map:
"All of our technologies are really enabling one thing. Which is getting the advisor to apply their advisory intelligence to their client in order to create a value proposition. Where the client feels confident that they are making good decisions and they have a partner in this process.
Anything that lifts the advisors' ability to deliver exceptional experience and advice is what we're all about. It's not about the tech, it's about the client."
What is the best way to ask clients their preferred mode of communication?
Ask them directly! Share the modes of communication that your firm offers with your client when booking meetings. Give them the freedom to choose how to communicate with you on their own. You're also able to upload this information to your CRM so you're always reminded how best to get in touch with each client.
Brian McLaughin, CEO & CTO of Redtail CRM:
"Make this a regular question! This really depends on their circumstances and life events, their preference of communication may change over time."
Brian speaks about using multiple forms of media and mixing them up! Just because you're sending a video message, doesn't mean you can't shorten the video and accompany it with some text for reference! This can absolutely help with client engagement as video is a more engaging media.
Want to Build Loyalty? COMMUNICATE!!
According to Riskalyze's white-paper 'Five Reasons Clients Fire Their Advisor', the number one reason clients fire their advisor is due to failure to communicate!
Has the pandemic shifted the expectation between advisors and clients for what communication means?
Aaron Klein, CEO of Riskalyze:
"The advisor failed to communicate with them according to their expectations. The advisor probably felt like they were communicating with this client, they may even have felt that they didn't want to over-communicate with this client."
This is where automated client check-in can really make a difference! Using tools to check-in with clients regularly without overwhelming them but at the same time showing them you're available and ready. Aaron spoke earlier in the webinar about their 'Check-ins' feature which allows you to do just that, however you're also able to set this up through various other tools. You just need to find what works for you because losing clients due to poor communication, should not be the alternative!
Aaron Klein, CEO of Riskalyze:
"Relationships are everything in business!"
"Communication and everything we've been talking about here are at the core of what makes you unique as a financial advisor because it is that service factor and relationship factor with your clients that is your differentiating factor. It's not your services that someone else may be able to provide."
CLICK HERE to watch the full webinar replay!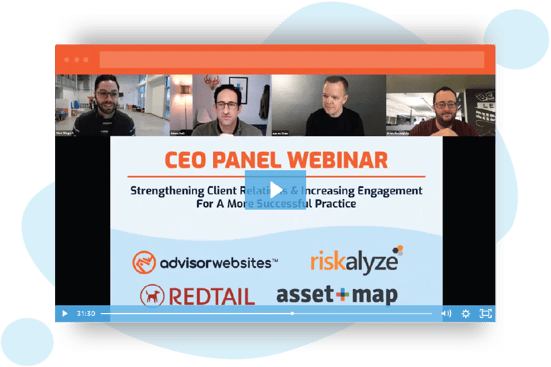 Learn More About the Panel!
training@redtailtechnology.com

800-206-2030

888-664-8850




www.riskalyze.com

855-RISKALYZE

sales@riskalyze.com
---
WHO ARE WE?



At Advisor Websites we help financial advisors grow their business and enhance their digital marketing strategies with their own personalized website. Our platform offers a selection of effective and proven frameworks that are personalized to reflect your business and brand.