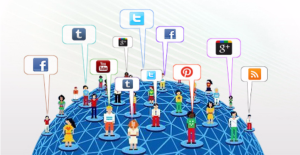 Can you imagine the world without social media now? Millions of people too far apart to meet more than once a decade can now meet virtually on social media sites. And share content with just one click.
Social media has not only made life easy in terms of communication, but even business growth is enhancing day by day. Setting up business pages, communicating to customers, making them aware of your services is very simple. That said, it's hard to maintain in this competitive world - staying on top is not easy.
If you or your firm uses social media, you might notice that it's become gradually harder to succeed at, so it's important to analyze your performance and sort out the issues with efficient solutions. Social media analysis focuses on reactive analysis - what competitors, customers, potential customers are saying about your firm on Twitter or Facebook as well as other sites. You can know who doesn't like you, who likes your company but not your services, and how a little change in services can affect your client's opinion of your brand.
Social media analysis can help you in many ways:
Gain a Competitive Advantage
Analyzing and measuring your own efforts on social media are essential, but that's not enough. You should also start analyzing your competitor. Taking a few hours each month to review your competitor's activity can provide great insight into where your efforts are lacking and where they're performing better.
The initial step is to decide who you are considering as your competitor.
Learn from Your Customers
The internet has created a platform where organizations compete with their customers. This means that customers are providing solutions to an organization's problem. In this way, you can use your clients' support opportunity to your advantage.
Enhance Your Products and Services
Social media analysis can be called a 'virtual therapist' who teases out the issues, identifies the problem and then resolves it, which helps to deliver better services and, as a result, an increase in product sales.
Better Target Marketing Efforts
Social media analysis is now providing demographic characteristics for product and service usage, which can be used as a boon for targeting marketing campaigns.
Social media is a plethora of information about an organization's portfolio. Using SMA can help organization mine those hidden treasures, which helps to enhance services, products, customer support, better marketing and much more.
- - -
This post was authored by Daniel Clark. Daniel is a professional writer and blogger who shares write-ups related to many different fields. In this post he shares how using a social media analysis tool can impact your business growth.
- - -