It's time to find out just how popular you are on LinkedIn. Continuing the expansion of its popular Who's Viewed Your Profile section, LinkedIn's newest feature shows users how their profiles stand against their connections' profile views. Even better, it also shows users how their ranks stack against others at their place of work – talk about competition in the workplace.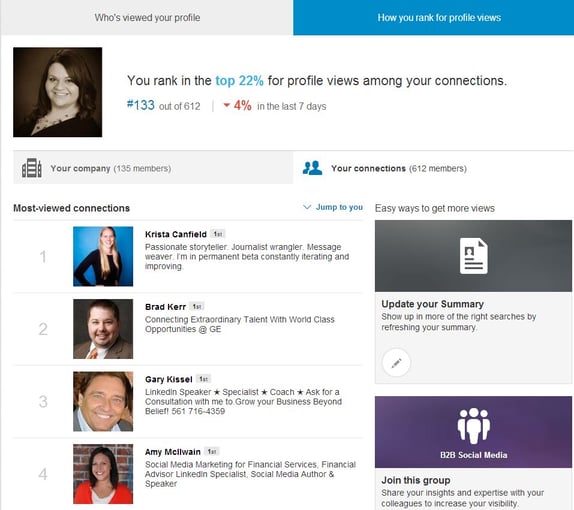 The ranking system illustrates just how powerful LinkedIn is – using the data collected from user profiles, the ranking system is based on the number of times a profile was viewed during the previous 30 days. Next to the rankings, users will also notice tips from LinkedIn on easy ways to get more views – such as updating the summary, joining groups or adding skills. True to form, LinkedIn's newest feature demonstrates the platform's dedication to encouraging users to become more active and engaged online.
According to the LinkedIn blog, the feature allows business owner to see the effectiveness of their marketing strategies and allows newcomers to the platform to thoughtfully build their networks.
About the Author
Caitlin Zucal is Marketing Coordinator for RegEd and manages the company's social media presence. A graduate of The Ohio State University, Caitlin joined RegEd in 2012 after the company's acquisition of Arkovi Social Media Archiving. She is an admitted serial Facebook and Pinterest contributor and can be found on Twitter at @Caitlin_Zucal.