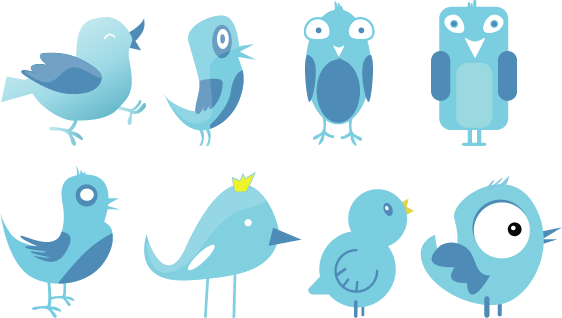 So, you are one of 106 million individuals worldwide who uses Twitter, the 9th most popular website in the world.
Before we get started, let's talk briefly about compliance regulations and the impact FINRA 11.39 might have on your usage of Twitter (and other social networks). This last set of guidance says the following:
"communication that currently qualifies as advertisements and sales literature would generally fall under the definition for retail communications."

"codifies their current interpretation of the rules governing communications with the public on interactive electronic forums."
Both of these are actually great news for firms and advisors looking to embrace social media as it clearly says that you don't need to have your content per-reviewed before it is posted to social networks like Twitter.
That doesn't mean that you should stop keeping records as per the current standards!! Remember that supervision for the content that is posted must be conducted in the same manner as correspondence is (post-review for example).
Disclaimer: we strongly encourage our readers to chat with their compliance department before they start to engage on social networking sites. We do not claim to be compliance experts, and as such, all the following ideas should be discussed internally with your compliance team.
With so many users, and so much channel noise, how can you ensure that you're optimizing your twitter impact?
1. Keep Engaging.
Keep retweeting interesting and relevant tweets, sharing informative links, and answering questions; align yourself with individuals you have researched to be industry leaders, and cement your reputation of being knowledgeable and helpful. Make sure to tweet at least once a day, increasing visibility and giving followers the impression that you are consistently up to date with the latest industry news. Avoid automating too many tweets through social media dashboards, however, as they can be perceived to be less personal - if possible, it is best to tweet directly.
2. Follow the 80/20 Rule.
Shameless self promotion is a turn off. In general, a safe level of self promotion is 20%, with the 80% content balance engaging other people's work, or other safer topics. Safer topics include tips that add value to follower's lives, or comments on current or industry events. During the times you do self-promote, avoid too much fluff and be direct - nobody wants to hear how impressive you think you are. Twitter users who self promote excessively run the risk of becoming listed as a spammer.
3. Use @name.
Use @name whenever mentioning another twitter user to build relationships, increasing the odds of your own tweets being retweeted and thus being exposed to a larger audience. Don't be afraid to use @name to compliment a particularly insightful tweet or to ask direct questions. Twitter benefits both parties: the asker may learn something new, the askee gains positive PR, and both parties may form a relationship.
4. Use #hashtags.
#Hashtags categorize tweets, making them more easily found in Twitter Search and allowing them to be exposed to a large number of users searching for a specific hashtag - users who need not necessarily be followers. According to twitter, Hashtagged words that become very popular are often trending topics. Hashtags can also be used to your advantage when looking up information about a particular topic, or to discover the most knowledgeable tweeters are regarding that topic.
5. Be strategic.
Tweets posted during specific times of the day are more likely to be read. Generally speaking, the most active twitter times, and thus the best times to post, are weekends and post-business hours. Third party applications, such as Tweroid, which is a free twitter analysis tool, can help you determine when your twitter followers are most active.
6. Schedule your tweets.
Too busy to tweet daily or during the ideal twitter times? Consider scheduling your tweets to ensure consistent exposure - your followers will never know! The popular twitter dashboards Tweetdeck and hootsuite offer this feature, though the feature is easily found through a number of twitter enhancing services, such as FutureTweets.
7. Measure your success.
Having 1 million followers is impressive, but not necessarily representative of twitter optimization. How many retweets are occurring? Are you being followed by other industry leaders? Do your followers represent the demographic you seek? Twitter analytics can help you determine whether your account is having its desired impact. Hootsuite, for example, offers built in google analytics, among other features, and other popular web-based tools include Klout, and TweetStats. After acquiring backtweets, Twitter has recently announced their own new analytics services, and should become available soon.
img src: http://cdn.thedesignwork.com/wp-content/uploads/2011/09/Free-Twitter-Bird-Icon-Sets-12.png