Advisor Websites™ is pleased to showcase the Freedom 55 Financial Ottawa's Financial Centre Management Team this week.
Our team made a few recommendations in order to achieve higher ROI with the site: prominent call to actions, lead generation forms, in-depth careers section, connection with Freedom 55 Financial recruiting platform along with easy-to-update sections (newsletters, monthly market commentary etc.)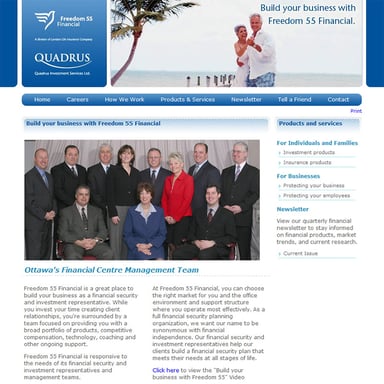 Brad Powe, Regional Director/Branch Manager, wanted a website geared towards recruiting . The careers section allows potential applicants to learn more about the quality of training, support and compensation structure available at Freedom 55 Financial.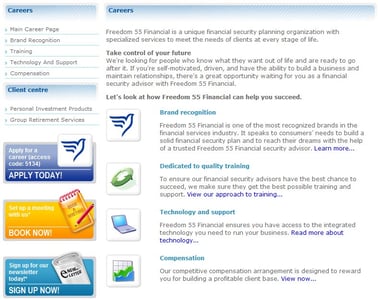 At Advisor Websites™, we've been building websites for Freedom 55 Financial advisors since 2002. If you are interested in learning more about our services, feel free to connect with us online at www.advisorwebsites.com or call us toll free at 1-866-500-4113.