Peter Jong is a Certified Financial Planner and Managing Partner for Desjardins Financial Security in Victoria, BC, Canada. Peter and his team work together to consolidate his clients' family assets into one balanced program and to improve asset accumulation with fewer risks along the way. His team creates customized strategies that maximize assets across various financial instruments, achieving greater leverage on wealth creation.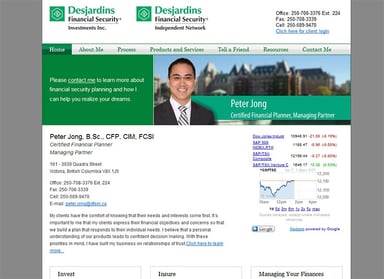 The team at Advisor Websites built another striking looking site for Peter. They designed him a great Flash banner, custom icons and helped him customize his website to reflect Desjardins corporate image. Please take a few minutes to look at Peter's website and let us know what you think. www.peterjong.net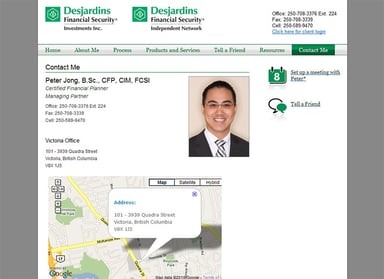 If you have a website already but need to take it to new heights, feel free to connect with me on twitter: @jjloic or email me at loic@advisorwebsites.com. I will be more than happy to discuss with you and see how we can help you increase your online presence. To learn more about our plans for financial advisor websites or signup, visit us online today!