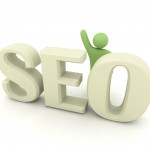 SEO stands for search engine optimization; a phrase people use to describe techniques for increasing your ranking within google's search algorithm. If you wish to boost your rating within this algorithm, there are four main strategies that are most commonly used: There is the actual content of your site, links both to and from your site, social media and your website's usability.
Content:
Making good content is often forgotten by those who become concerned with the minutia of search engine optimization, but it is a major factor which Google's algorithm ranks your website. Frequently covered or available subjects or products are not favored. Articles, even those which do not plagiarize, yet bear heavy similarities to existing articles either in their wording or content are not highly ranked either.
Google Analytics is a great tool for finding out which of your articles is most popular. Look at what draws traffic and use this knowledge to make judgement calls when deciding what content to provide in the future. It can also be used to find which "keywords", or words that consumers frequently type into a Google search, are the most popular and you can adapt your content to provide for the needs of these customers.
Link Building:
Those who are focused on improving their ranking will focus mostly on links. Links are the main method by which the algorithm decides your website's validity. Content which cites links to official sources such as .gov, .edu or any media outlet sites will be ranked highly because your content is assumed to provide true or widely accepted facts.
The best way of employing links being linked to. Linking to other websites is easy and could be abused. If your website is frequently cited or referred to, you are not only gaining traffic, but also validity, as it is assumed that there is a level of trust that other sites have for your content. Google Analytics can tell you who precisely is linking to you and what pieces of content are most often linked to. It is a good idea to adjust your content accordingly.
Social Media:
Social networking sites are designed to share personal content to as many people as possible, and it is very easy to re-purpose these website's for commercial function. It is a good idea to create promotional social networking accounts with your company's logo and news. In addition, you can use Google Analytics to follow what content is being shared and how many people are finding you through social media. You may be surprised.
User Experience:
If your website is easy to use and straight to the point, a customer is more likely to return, and share a link with friends and family. The algorithm employed to decide your ranking measures how easily customers navigate your website, and this gives it an idea as to the quality of your site layout. You may also use Google Analytics to look at the rate at which customers share your website link or "bounce rate", and use this as a metric for measuring good user experience.
This post was authored by Lola Collums and originally appeared here at Clear Sky SEO.