Getting new clients is hard. And once you've got them how do you keep them? Attentive customer care is important but ultimately it's about delivering good results. This article describes how the covered call strategy can be used by financial advisors to attract new clients and keep existing clients.
Covered calls have been around since the mid-70's. Today they are the most popular option-based strategy. In fact, Charles Schwab has said that 84% of their accounts that are approved for option trading do covered calls (see WSJ article). Despite their popularity, most investors don't do a rigorous job of implementing the strategy consistently to maximize monthly time premium collected. That's where you, their advisor, comes in.
A call writing program will increase portfolio yields. Depending on what kinds of stocks the client has and how much upside potential you want to leave yourself, you can add 4-7% per year through a program of passively writing near-month calls on stocks and ETFs in clients' portfolios.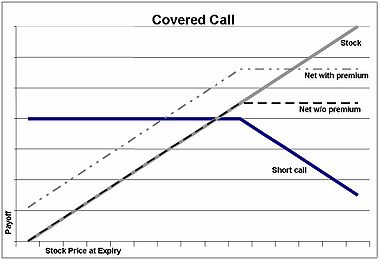 Let's look at an example. Imagine a client has SPY (broad index), GLD (gold ETF), and GIS (General Mills). And let's say you want to write out-of-the-money calls leaving yourself some room for capital appreciation in the underlying.
With SPY at 114.67 you could sell an Oct 117 and get 77 cents. With only 17 days until expiration you make 14% annualized return-if-flat.
For GLD, trading at 127.85, you can sell an Oct 130 and get 90 cents. Annualized return-if-flat of 14%.
And for GIS, trading at 36.96, you can sell an Oct 39 for 24 cents, and get the 28 cent dividend that goes ex on Oct 7, for a total annualized return-if-flat of 28%.
In each of the above cases there are a couple of points of upside potential, with only 17 days until expiration. Yes, occasionally one will get called away, or you can buy the option back before expiration (maybe you don't want to lose the stock for tax reasons). But overall it's pretty easy to add 0.3% to 0.6% per month to most portfolios with out-of-the-money covered calls. Multiply that by 12 and you're looking at adding 4-7% per year to a typical portfolio. And in sideways or down markets this 4-7% will help you beat the index.
Increased performance leads to increased client satisfaction, which leads to better retention of existing clients and more referrals of new clients. The other good news is that once a person commits to a covered call program there will be more transactions per month in their account, which is good for anyone who is paid by the trade.
Mike Scanlin is the CEO of Born To Sell, www.borntosell.com, a web site dedicated to helping people earn monthly income from selling call options. Mike has been selling covered calls for 30 years and his career includes software engineer, investment banker, venture capitalist, and startup CEO. Connect with Mike on Twitter: @borntosell
You can email Mike at: mike@borntosell.com