Marketing Sherpa has recently published the results of a study they conducted about online marketing outsourcing including social media, content creation and SEO.
The chart below highlights their findings and showcase what percentages of their respondents are outsourcing different social marketing responsibilities: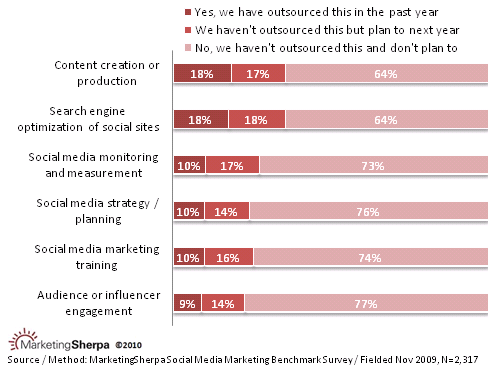 Here is a quick excerpt of their study:
Social marketing responsibilities are outsourced less often than traditional marketing responsibilities. Social marketing requires an intimate knowledge of the brand and -- due to the personal nature of social media interactions -- users prefer to hear directly from an organization rather than from an intermediary.

The bad news is that you more than likely will have to build your social marketing team from internal resources, inside and outside the marketing department. But the good news is that these internal resources are everywhere and many are already participating in social media for personal and professional purposes.
We've also been conducting a survey for the past couple of weeks at Advisor Websites™. If you haven't contributed, feel free to click the button below: