A large amount of information we create is dedicated towards the need for Advisors to make the most out of Twitter. While having a twitter handle and tweeting occasionally is definitely a great start, it pays to expand your toolkit. We have collated a large data set of finserv experts on twitter.
Here is a list of our favorites. They are all differentiating themselves from the rest of the pack on Twitter.
FinServ Experts on Twitter
Carl Richards
One word - sketches. It doesn't need repeating that using images with your tweets boosts your impressions & engagements many times over, but @behaviorgap has a great recipe for success - personal sketches. His Venn diagrams & witty sketches make for a really interesting twitter feed that is fun, yet extremely relevant for financial advisors among the twitterati. While not everyone has the talent to be the creator of the Sketch Guy Column at the New York Times, it certainly helps to try something different!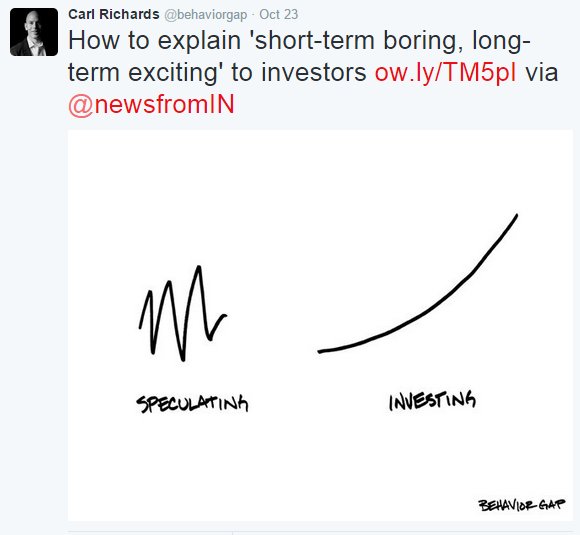 Sophia Bera
Niche, niche, niche. Identify a topic you're really comfortable with and go to town with it... on Twitter. @SophiaBera has actionable tweets tailored specifically for Gen Y and nothing makes this clearer than her Twitter bio -'... not your father's financial planner'. A bold move that seems to go down well with her young audience.
Note: +1 for her Twitter etiquette; due credit given to the creators of the original content!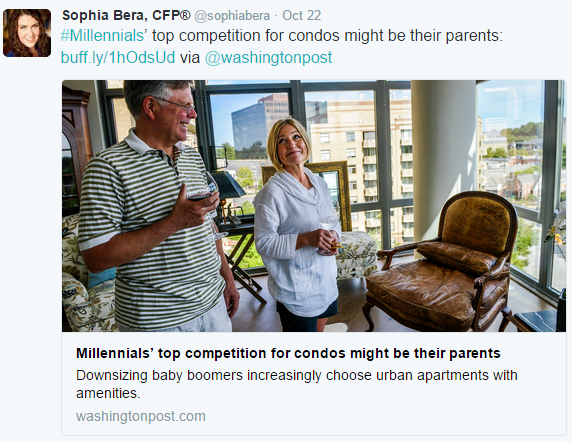 Bob Veres
You retweet, I retweet, we all 'RT'. But there is a way to add value to your Retweets and engage with your followers. As of April 2015, Twitter allows users to add a personal comment with each Retweet. And not many make better use of the 116 characters available with each RT than @BobVeres. His comments range from being insightful to downright hilarious, a great way to keep his followers' interest piqued at all times!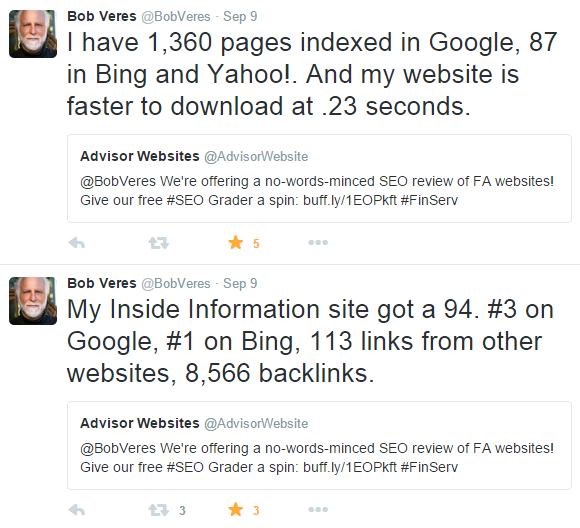 Bill Winterberg
Video is definitely the next social media frontier for Advisors and leading that charge is the 'Oprah of #FinTech news' and regular vlogger, @BillWinterberg. He uses Periscope extensively and includes video snippets from his vlogs as media attachment to tweets. While this admittedly takes a bit of work, his 14.6 thousand twitter followers certainly seem to like it!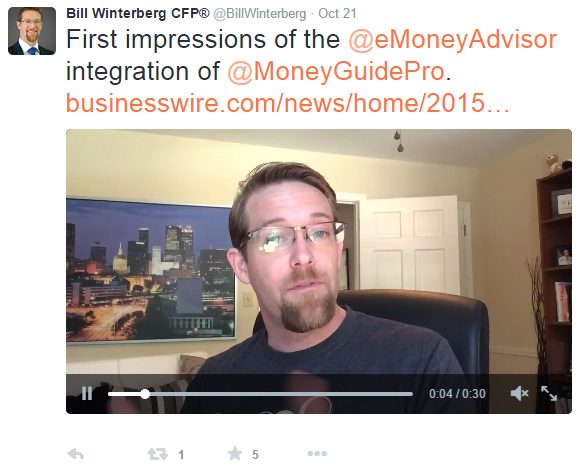 Kristin Harad
Campaigns! Have a lot of things you'd like to say but 140 characters doesn't really cut it? Break it up into a series of tweets and schedule them as a Tweet campaign. @KristinHarad's ongoing '96 moves to make 2016 magnificent' is a series of 96 tweets with advice to revamp readers' personal brand and their digital presence. Not only does it fill your tweet schedule coffers, it also keeps your followers looking forward for more!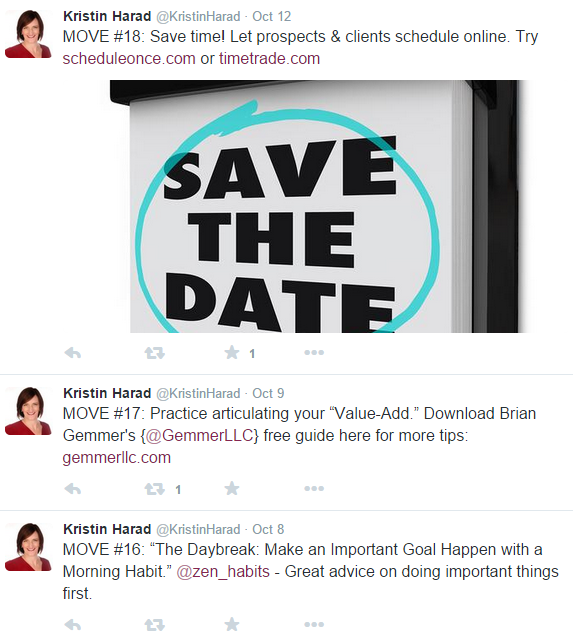 Click this link to go to all our articles about using twitter as a financial advsior.
Looking for pointers on making the most of your digital presence? Check out these 18 Financial marketing Insights from Industry Experts and start generating more leads today!
This article was originally published in October 2015.