This week is the last one of our 3 weeks series on Search Engine Marketing (SEM). Today's article is about Web Banners (also known as banner ad) and will hopefully provide you with valuable information on how to get set up with banner ads, what you results you could expect and why it might work for your business.
A web banner or banner ad is a form of advertising on the World Wide Web. This form of online advertising entails embedding an advertisement into a web page. It is intended to attract traffic to a website by linking to the website of the advertiser.
Source: http://en.wikipedia.org/wiki/Banner_ads

How web banners work
Web banners are pieces of advertisement usually built from an image or multimedia object (using technologies such as Java, Shockwave or Flash). These banners can be generally found in 2 different sizes: either wide and short, or tall and narrow.
The advertiser will usually place his banner ads on websites that have interesting content, such as a blogs, news sites and community pages. The publisher (or owner of the website) will earn money usually on a CPC (cost per click) basis, for every unique user click on the ad, the publisher receive money.
In order to capture the attention of the visitor, banners are often animated, and usually include a company logo and a button for a quick call to action.
Below is an example of web banner ads found on Mashable (news blog covering cool new websites and social networks)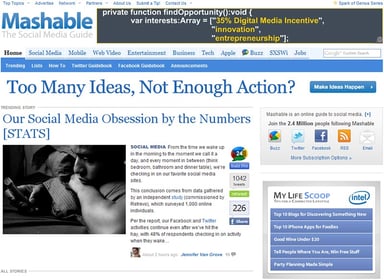 Web banners benefits
Banner ads are fantastic, if you place them in the right place, you can have targeted visits to your website from visitors already pre-qualified. The more qualified traffic you get, the higher your changes to convert a visit into a sale.
Always remember that you want to drive the visitors to a landing page and not to your home page. Remember the 3 click-rule; your visitors will only click 3 times to find the information they need before leaving your site. As soon as they click on your ad, that counts for 1 click. Therefore, if you send them to your home page instead of a landing page, they will have to the information they were after, and if it takes them 2 more clicks, they will most likely leave your site.
You also need to make sure that your landing page content matches the message contained in the banner. There is nothing worse than false promises, be transparent and make sure you have valuable content and a great call to action (signup form, buying button, etc.) on your landing page.
If you are serious about online marketing, then you should definitely think about integrating web banner advertising in your online strategy. However, the success of your banner will directly depend on how effective and creative its design is. If you don't have a graphic designer in your team, you might want to contact a local freelancer or ad-agency to help you out.
The success of your campaign can be measured by the number of visitors that clicked through to the target web page using your favorite analytics software. You can also track the number of impressions served (every time a web page that references the banner is loaded into a web browser), click through rates and conversion rates.
Links and resources
If you don't have analytics set up yet, please sign up for a free Google Analytics account here: http://www.google.com/analytics/
To learn more about online advertising, feel free to connect with me on twitter: @jjloic, email me at loic@advisorwebsites.com simply call me toll-free at 1-866-500-4113. Once again, thanks for reading and if you've enjoyed this article make sure you leave a comment below!