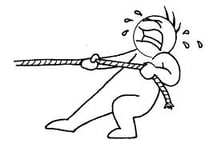 Our businesses are built on the effectiveness of our prospecting efforts. Like everything in life, there has to be some "give and take," or as we like to say in marketing, "push and pull." The "push" gives prospects enough information about you, your practice, and your specialties, and then the "pull" provides why they should work with you and inspires them to action. The most effective prospect artists have mastered this concept by applying both strategies concurrently.
Here are some steps that you can take to put a "push and pull" prospecting strategy in place for your practice:
Choose a target. Determine which audiences, communities, and/or professions you would like to pursue as clients, and research them to refine your pitch for those audiences.
Determine a time and place to share. Each audience that you may wish to target reads certain publications and participates in certain activities. By researching your audience thoroughly, you will be prepared to share your message at the right time and in the right place.
Create a follow-up plan. Engaging your prospects on a regular basis will increase your chances of converting them to clients.
After you have put thought into your prospecting strategy, solidify a follow-up plan to ensure that you are communicating effectively with your future clients.
Here are some activities that may spark ideas for you:
Send a monthly e-newsletter to keep prospects informed of market happenings.
Engage your prospects on your website with interactive tutorials and charts to understand financial concepts.
Create a blog with value-add information.
Offer educational webinars to attract prospects.
Establish a social media presence using FINRA-reviewed articles and corresponding posts.
What have you done to give your prospecting a push … and a pull?