Consumer behaviour is changing.
According to a 2014 Nielson Digital Consumer Report, the average American spends 60 hours a week consuming content across any number of digital devices.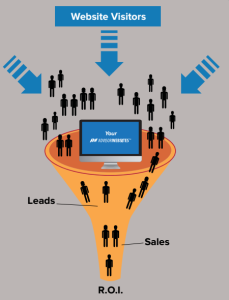 This, along with the fact that 9 out of 10 prospects will Google your firm before reaching out, is why you need to take your sales funnel online.
But just getting online doesn't ensure you're going to be successful or it's going to be good. There's a lot to navigate when it comes to a web presence.
One such barrier you need to work around is that prospective clients, now more than ever, are distrustful not only of current economic conditions, but of you.
According to Greg Friedman, CEO of Junxure, this increased level of distrust has come "in the wake of large-scale instances of fraud (Madoff) and market and economic volatility (the financial crisis)," leaving behind cautious prospects who "now interview several firms before choosing one to manage their future and build their legacy."
Since the most trusted source of information today is the internet, creating a comprehensive, trustworthy web presence is essential.
What does your web presence need?
Credibility
The most credible companies also tend to be the most transparent. Online visitors want to get as much information as they can about you and your firm before they'll explore picking up the phone, let alone working with you.
How much information does your website give about you? Is it full of the same generic, corporate speak that plague so many advisors' websites?
If your answers to those questions are 'not much' and 'yes,' you're neither coming across as transparent nor credible. You seem evasive.
Consistency
Maintaining a consistent online presence across all channels - your website, social media, etc... - tells your prospects that you know what you stand for.
It also shows them what to expect from you.
If you have a multiple personality web presence, clients can't trust you if they don't know which one to trust.
Contactability
If you make it easy for prospects to contact you, they'll feel more comfortable that you exist.
And that you're not hiding.
Providing phone numbers, emails, social media accounts, and maps tell your online visitors that you can be gotten a hold of to be held accountable.
Your website is not a determining factor of how well you do as an advisor; however, it can prevent people from discovering just how good you are. When most web users admit that a poor web presence is a direct reflection on the business, what does your website say about you?
Looking for a more in depth explanation on what's above?
Advisor Websites and BrightScope teamed up to explain how to build a credible online presence that helps — not hurts — your financial practice. Does your online presence turn visitors into prospects?
Listen in and learn:
The 3 big questions every one of your website visitors are asking
How to build out a credible, trustworthy online presence that turns web visitors into leads
How to create a lead funnel that starts online