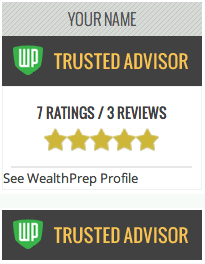 Advisors, are you ready for another innovative Advisor Websites integration? Available exclusively for Canadian professionals, seamlessly showcase your WealthPrep profile on your Advisor Website.
With the integration, showcase yourself as a trusted Advisor with the brand new widget (pictured right). Best part? It's free to sign up for a 30 day trial, and if you are already a client of both Advisor Websites and Wealth Prep, the integration is free and very easy to install.

How to Integrate WealthPrep with My Website?
(read full step by step instructions here)
1. Log in to your Advisor Websites Dashboard and click on the "Extras" tab
- It is here that you can see all of the integrations available to your Advisor Websites profile – such as Salesforce, Vestorly and of course WealthPrep
2. Select WealthPrep
3. Either begin your free trial or click "Integrate your account" located at the bottom of the page
4. Enter in your WealthPrep account name and click save like pictured below.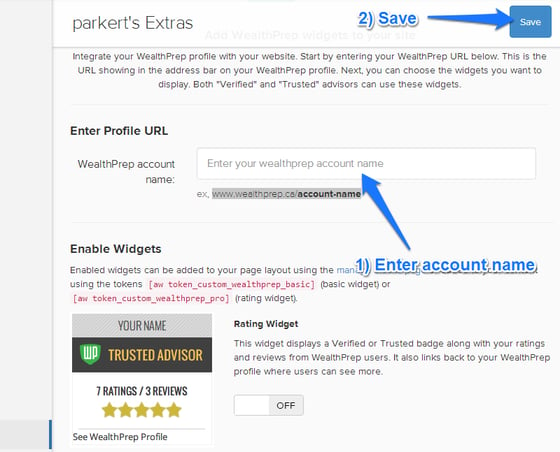 5. STEP 5: Two WealthPrep widgets are added to your site once your account is linked: a Rating Widget (which appears in the right sidebar of your homepage by default) and a Basic Widget (which appears in the footer of all pages by default). Use the toggle buttons to turn these blocks on or off.
(Note: If you'd like the positioning of a blocks changed, please submit a support ticket here and our team will help you with that). By default, these blocks are toggled off, so you'll have to enable them if you want them to appear on the site.
Click 'Save' and the integration is complete!