Welcome to Part 2 of our complete LinkedIn guide for financial advisors. For those of you unfamiliar with the business-oriented social networking site, LinkedIn offers a number of features that will help increase your visibility within the financial industry and promote your services.
Part 2: Creating and Optimizing Your Profile
Once you've signed up, the next step is to add information to your profile. This includes a summary of your abilities, work experience, interests, awards and more. How much you decide to add is up to you, but keep in mind that a completed profile will improve your LinkedIn internal search rankings and make you 40 times more likely to receive opportunities through LinkedIn.
1. To begin, go to the 'Edit Profile' tab and click on the small 'Edit' link right beside your name as shown in the image below. Notice how each section has its own 'Edit' or 'Add' link.
2. You will be taken to the 'Basic Information' screen where you can start filling in your information in the appropriate fields, then click 'Save Changes'.
TIP: Make sure you have a catchy Professional "Headline" (i.e. Financial Planner with 7 years experience).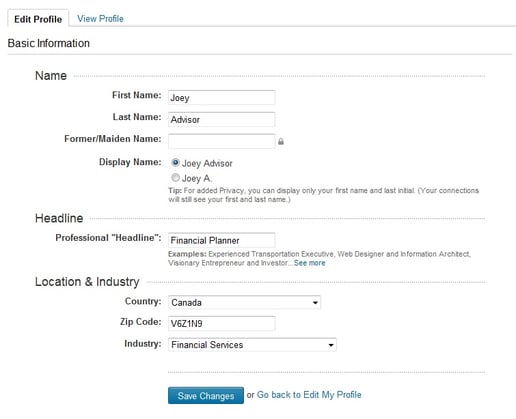 3. Add Photo. We strongly recommend that you add your picture to your profile. This will help people put a face to your name, and build your brand and credibility. Make sure the photo includes only yourself, is appropriate for public viewing, and professional in appearance!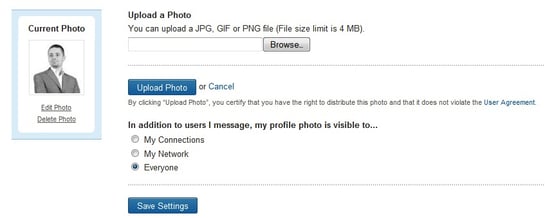 TIP: Try to use the same picture for all of your public profiles. Consistency is key for building your brand and gaining recognition.
4. Current and Past Positions. Your next step is to add your current position. To do so, click the 'Edit' link beside 'Current Position' and type in your company name (it may already be listed). If you are self branded, type in your own incorporation name and fill out all the fields. Make sure you type in a short summary of your role, responsibilities and achievements. When you are done, click 'Update'.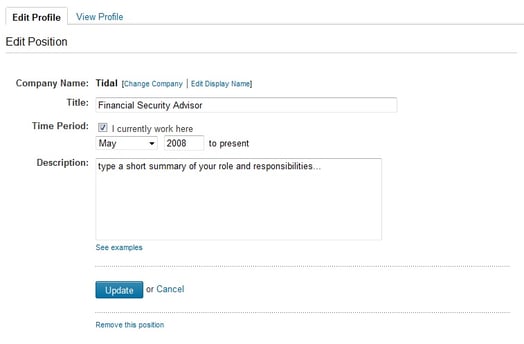 5. Repeat. Duplicate the above process for all your past position(s). We recommend that you only list the most relevant positions.
6. Add your Education. You can now add all the schools you have attended to showcase your scholastic achievements and involvements.
7. Summary and Specialties. The summary is where you can tell your story and showcase who you are and why you make a great financial advisor worth connecting with. For the specialties section, carefully choose keywords that describe your skills and abilities, as these will help optimize your profile within LinkedIn search results.
8. Skip to Websites and Twitter section. You'll notice that the Recommendations and Connections section is next, but since you don't have connections yet, you can't get any recommendations at this stage. So to finish off your profile, add any websites (including blogs) you may have. As the image shows, you can also add a list of your interests and awards.
TIP: This section will help show off your personality and individuality, so try to include something in this section rather than leave it blank.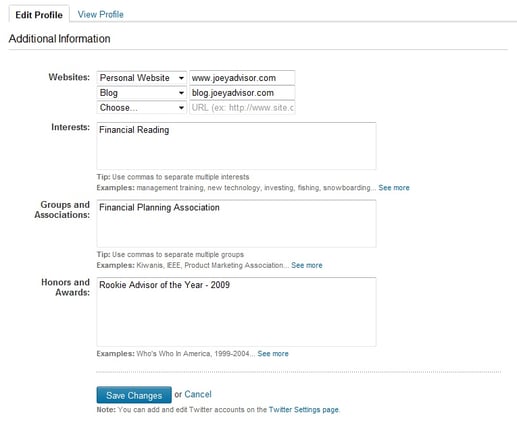 TIP: You can customize the title of the link pointing to your website or blog. Simply select 'other' in the drop down list and type in your name and title (ie. 'Joey Advisor Advisor Financial Group').
Lastly, add your Twitter account if you have one and choose whether you would like it to appear on your LinkedIn profile.
TIP: If many of your tweets are personal in nature, you may not want them all to appear on LinkedIn. To share on LinkedIn, include the hashtag #in in your tweet. For example: "Working on an article about how to get more referrals online. #in"
Now that you've created and perfected your profile, you are ready to add connections and build your network. This will be featured next time in Part 3: Building Your Professional Network.