Yammer is the leading real-time communication platform for companies, groups and organizations. Unlike Twitter, Yammer focuses on businesses, and only individuals with the same email domain can join a given network. It allows businesses to create internal community and improve collaboration and synergy between departments. You can manage projects, keep your team member updated and best of all, it is free.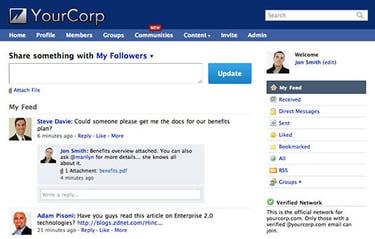 At advisorwebsites.com, we started using Yammer a few months ago following a recommendation from Stephen Jagger of Ubertor. We have team member in Canada, the USA and the Philippines and Yammer allows our staff to stay connected by updating other colleagues instantly on what they are working on. this can prove particularly useful if a user is assistant a client on the phone and needs one of his colleague to debug a website or activate a new feature.
If you want to learn more about how Yammer can benefit your business, feel free to connect me with on twitter: @jjloic or leave a comment below.