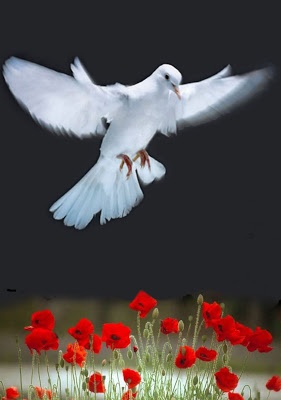 Tomorrow will be Veterans day (or Remembrance day if you're Canadian); As you may or may not recall, depending on how well you were paying attention in history class, World War 1 officially ended on November 11, 1918 at 11a.m. Tomorrow, you will most likely enjoy a well-deserved day off as a result of its federal holiday status. This is not the only contribution that our veteran fathers, mothers, grandmothers, grandfathers, brothers and sisters have made - and are continuing to make, however. Today, there are 40,000 troops in Iraq alone, not including other troops positioned in other countries involved in the War on Terror, including Pakistan, Yemen and Afghanistan, or more recently, Operation Liberty Dawn in Libya. They continue to fight for human rights and freedoms by ending repressive regimes, promoting democracy, and liberating silenced people. While many people do not believe in these wars, it is important that we put aside our feelings and honor those who are sacrificing so much in the name of their country.
Indeed, few truly realize the immense sacrifices that our veterans make. Even many of those who survive endure lasting injuries - not only physically, but mentally and emotionally.
Losing the Battle: The Challenge of Military Suicide, by Dr. Margaret Harrell, CNAS (Centre for New American Security) Senior Fellow and Director of the Joining Forces Initiative, and Nancy Berglass, CNAS Non-Resident Senior Fellow, suggests that the health of the all-volunteer force is dependent on our nation's ability to take care of its service members and veterans.

According to their report, "Suicide among service members and veterans challenges the health of America's all-volunteer force." From 2005 to 2010, service members took their own lives at a rate of approximately one every 36 hours. This tragic phenomenon reached new extremes when the Army reported a record-high number of suicides in July 2011 with the deaths of 33 active and reserve component service members reported as suicides. Additionally, the Department of Veterans Affairs estimates 18 veterans die by suicide each day. Yet the true number of veterans who die by suicide, as Harrell and Berglass point out, is unknown. As more American troops return home from war, this issue will require increasingly urgent attention.

"Data have long indicated definitive links between suicide and injuries suffered during deployment," the report says. "Individuals with traumatic brain injury (TBI), for instance, are 1.5 times more likely than healthy individuals to die from suicide." Additional factors that heighten risk include PTSD symptoms such as depression, anxiety, sleep deprivation and substance abuse. "These factors are…widely associated with deployment experience in Afghanistan and Iraq," CNAS says.
Drug and alcohol dependency - along with other addictions - also occurs more frequently with veterans.
About 14 percent of the Army population is currently prescribed an opiate medication. Forty-five percent of accidental or undetermined Army deaths from 2006 to 2009 were caused by drug or alcohol toxicity, and nearly 30 percent of Army suicides between 2005 and 2010 included drug or alcohol use.
Unfortunately, due to the stigma associated with psychological treatment, suicide and untreated PTSD and depression, along with other disorders, will likely persist. To read the full Centre for New American Security report on veteran mental health and suicide, click here.
So for this veterans day, make sure to not only remember those of our past, but extend a helping hand to current troops and recent veterans of the war on terror: they need your support.
The department of foreign affairs has a national centre for PTSD, and has resources available to veterans and family of veterans.
If you are ever thinking about suicide and feel unsafe:
Call 1-800-273-TALK (1-800-273-8255). The hotline is available 24 hours a day. (Note: this number is not exclusive to veterans - anybody can call)
En Español 1-888-628-9454
Veterans can also chat live online with a crisis counselor to get help at any time of day or night. Go to Veterans Crisis Line.
Veterans, press "1" after being connected, to be routed to the Veterans Crisis Line.
To learn more about suicide prevention in Canada, click here.
The David Lynch foundation treats PTSD using meditation therapy. To learn more about how you can contribute to the David Lynch foundation, click here.