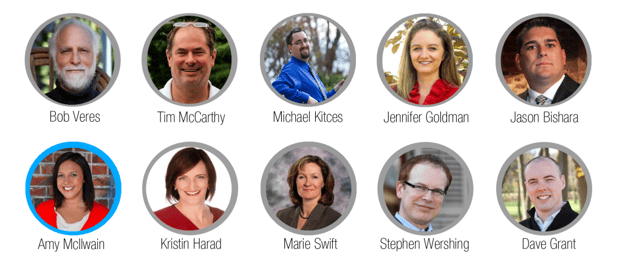 Reminder alert!
Amy McIlwain will be sharing her expertise and answering questions about financial social media today. Amy is regarded as one of the most knowledgeable in the industry for her work as an author and event speaker.
About Amy
With her unique background in both online marketing and financial services, it is no wonder Amy McIlwain is one of the most in-demand speakers in the financial industry. Aware that the rapid shifts between traditional and social marketing can be challenging to navigate and harness, she addresses the most pertinent issues regarding social media, resulting in a clear approach that allows you to cut marketing costs, consistently build your network, and increase your revenue. Furthermore, she provides content-packed action items that help you tackle the complex compliant issues within the financial industry so you can yield immediate results.
Join on on Thursday July 17 @ 10 am PT
About the Thought Leader Roundtable Discussions:
The roundtable concept is pretty simple: we'll host an open discussion centered around a specific topic. Participants dial in and listen to industry experts chat about a given topic. Listeners can submit questions or relevant topics they'd like to hear about in advance by email (marketing@advisorwebsites.com) or ask questions on the fly by tweeting @AdvisorWebsite using the hashtag #AWlive.
Send us YOUR questions forAmy to address during the session:
Email: marketing@advisorwebsites.com
Twitter: @AdvisorWebsite (#AWlive)
What do you want to ask Amy McIlwain?
Register for the roundtable today!