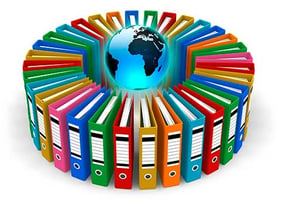 Social media is an incredibly fun and effective way to engage with millions of people online. Along with the excitement, however, is the perceived buzz kill—FINRA and SEC compliance standards. To be specific, the requirement to archive and retain records of all communication via social networks seems tedious, doesn't it? (Rules 17a-3 and 17a-4 under the Securities Exchange Act of 1934 and NASD Rule 3110). As restraining and "un-fun" as it sounds, there are some great archiving software and tools that not only do the work for you, but also offer distinct marketing advantages. Below are a few benchmarks to help you find a comprehensive social media archiving solution.
So, what does communication via social media entail?
Blog posts
Tweets
Facebook status updates
LinkedIn updates
Comments
Instant messaging
Webinars
How is social media archiving advantageous? The right social media archiving solution goes beyond mere data retention. It can drive business development, discovery and make your marketing more effective in the following ways:
Offers the ability to facilitate satisfying the compliance requirements to participate in social media.
Supports the use of professional and personal systems and devices at any time
Integrates online monitoring of content from sources other than your social media content—this could include RSS feeds, Twitter searches, Google alerts, and more. You should be able to export them to an Excel spreadsheet for easy analysis and team collaboration.
Offers the ability to view the results of compliance-driven monitoring and marketing-driven monitoring through a single dashboard—This is much more convenient than clicking through numerous emails and computer screens.
Rich source for content ideas
Helps you see what content is getting the most feedback and attention.
What archiving platform should I use? There are a medley of awesome social media archiving hubs for financial professionals. Here is a list of the top 6 to help you begin your search.
Hootsuite: HootSuite's brand new new Enterprise solution provides the most comprehensive social media pre-approval and archiving solution in the industry. With HootSuite Social Compliance, clients can tap HootSuite Enterprise for social media engagement, collaboration, analytics, security and training while also managing the review and supervision of social media communications from their Global Relay Archive. Pre-review tools finally bring compliance officers into the approval queue mitigating the barriers to social media messaging for financial firms.
Arkovi: Built in the cloud, Arkovi monitors and archives incoming and outgoing social media communications, including blogs, Facebook, LinkedIn, Twitter, websites and more. They deliver this across all devices—PC, Mac, and smart phones
Erado: Erado offers a full line of email, social media, instant message archiving, encryption, message security, and disaster recovery solutions designed for FINRA, SEC, Sarbanes-Oxley, Gramm-Leach-Bliley, FERC, NERC, and HIPAA compliance.
Socialware: This platform is a comprehensive social business management solution that empowers financial services professionals to engage, acquire, and retain a higher volume of customers. Their three major products are Socialware Voices, Socialware Compass, and Socialware Insights.
Actiance: The Actiance platform provides granular security, management, and compliance features for unified communications (UC) and collaboration applications. Actiance's platform supports Microsoft Lync/OCS, IBM Sametime, IBM Connections, Cisco Unified Presence, public instant messaging (IM) platforms, industry-focused networks such as Reuters and Bloomberg, Web 2.0-enabled websites, blogs, wikis, webmail, and social media sites such as Facebook, LinkedIn, and Twitter. Content from these sources can be moderated, monitored, and archived – reducing outbound data leakage and enabling compliance with industry regulations, legal discovery requirements, and corporate policy standards.
Hearsay: Hearsay Social enables enterprises to engage with their customers via social media at every level of the organization–from brand to region to local stores, agents, or employees. Fortune 500 companies like Farmers Insurance Group use Hearsay Social to manage multiple corporate brand pages as well as over 5,000 local agent pages. Hearsay Social delivers enterprise-class scale, reliability, and regulatory compliance for financial services, insurance, retail, and other distributed organizations on Facebook, Twitter, LinkedIn, and Google+.
Selecting the best archiving platform will require a little research on your part, but they all offer some wonderful tools that offer great social media archiving solutions for your firm. If you have any questions regarding this subject, leave a comment!
Photo: http://www.sxc.hu/photo/1170809