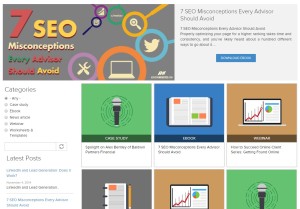 A lot of excellent content has been added to our Resource Library over the last little while that we thought we'd direct your attention its way! The AW Resource Library is your one-stop shop for all things financial web marketing - it has all the tools you need to help you transform your online presence.
With snazzy graphics and an easy design, the Library is a breeze to navigate and locate the resources relevant to your queries and interests.
At the top of the page, our latest ebook will be available for download – this month it's 'The Robo Pocket Guide: Using Tech to Your Advantage,' which you should definitely read in order to stay up-to-date on the current financial landscape.
Beneath the ebook is a date-ordered collection of all our resources available to you. You can peruse each page as is, or use the menu on the left to search within a particular category.
Case Studies
If you're curious about our awesome clients, I encourage you to check out our case studies. We shine the spotlight not just on websites we're proud of, but on clients who have taken them to the next level. Our case studies are a great way to see the practical application of a financial website and a treasure trove of ideas for your own.
Ebooks
All of our ebooks are up and ready for download. You can read your way from '4 Fatal Flaws of Financial Web Design' to 'Webvisor: The Financial Advisors' Guide to the Internet.' For free, I might add.
News Articles
Here you'll find articles we've written on web design and marketing that have been published elsewhere on the internet, from FinancialPlanning to Investment Executive. This is both cool for us and more information for you.
Webinars
Treat your ears to one or all of our webinars. We regularly host online seminars with thought leaders from the financial service industry on a wide range of topics. In this section we've got recordings you can revisit or listen to for the first time, as well as the registration pages for up and coming webinars – the recordings of which will be posted there after. You can also find our latest AW Snap Report here.
Worksheets and Templates
Adding to the client persona and keywords worksheets, ebook creator, and editorial calendar template, are templates for a referral letter and biography, and an outline for tracking and measuring your website's performance.
And finally, the cherry atop this icing of our website cake is that we also have a feed of our three latest blog posts. Absolutely everything is there.
Bookmark our Resource Library and check back regularly to stay up to date on all things financial web marketing and design!