Technology is evolving rapidly, with different digital marketing tactics like social media, mobile marketing, and content marketing getting a lot of attention. With all these new forms of online marketing, is it safe to say that email marketing is dying out?
Well, the answer is no. Email marketing is still one of the best forms of online marketing; it's targeted, shareable, measurable, cost effective and it increases your brand awareness. Today's technology is improving how you send emails, so it's time to adopt an email platform and unlock your true email marketing potential.
We've all seen the fancy emails that businesses send to our inboxes. Looks like they have some expensive graphic designer making them for them right? Well, most of them (including us) use an email marketing platform that does all the fancy work for them. But which one should you choose? We've researched the top 6 email platforms today and compared them for you.
Which platform to use?
Let's start with this comparison table we created. We looked at the most basic service from each provider and laid out the different features they offer.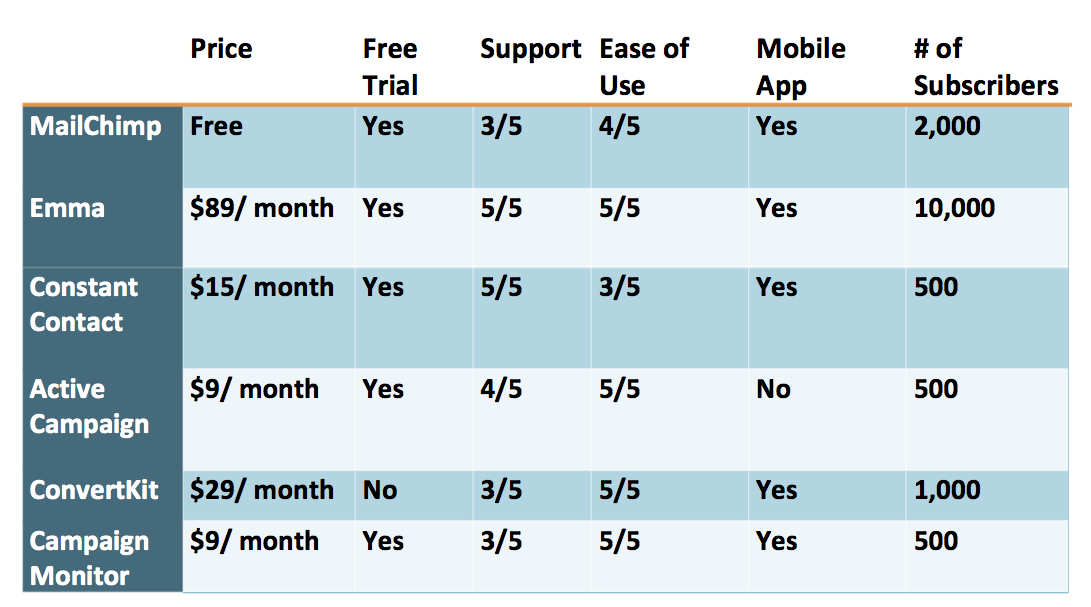 Now let's dive into some more details about each provider. Read below about each platform!
Let's talk email
MailChimp currently has more than 15 million users around the world! It's one of the only platforms that let's you use its services for free for as long as you want, unless you have over 2,000 subscribers.
Emma is a high end email marketing platform, with it's main strength being your ability to "create targeted campaigns based on customer behaviour." What does that mean? It means that Emma will look at what customers do outside of their inbox (like looking at your website), and turn that data into automated emails that are both relevant and timely.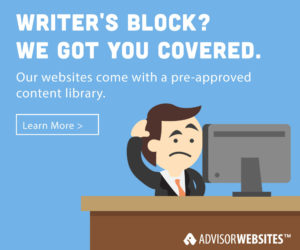 Constant Contact is an email marketing platform that focuses on small business and nonprofits. Constant Contact differentiates itself with excellent customer service, so the answers to your questions are only a quick phone call away.
Active Campaign believes in "intelligence driven marketing" meaning that the company focuses on analytics to improve your email marketing strategy. For example, Active Campaign offers Split Testing, which means you can send out two different versions of an email to your audience, and you can test which version gets the most opens or clicks.
[embed]http://www.activecampaign.com/videos/email-topanimation.mp4[/embed]
ConvertKit focuses on making emails for bloggers, but that doesn't mean Financial Advisors can't use their services too! Although bloggers are the company's main target, ConvertKit is essentially built for service-based business owners.
Campaign Monitor specializes in email marketing for small and medium sized businesses. The company offers hundreds of professionally-designed email templates, personalized emails, beautiful email sign up forms, as well as an app so you can track your email performance wherever you are.