This is a re-post. Original article was published by Arkovi on Nov 8 2011.
If you are a social media lover like me, you may be looking for a new platform that not only allows you to express your creativity, but can also be utilized as a creative tool for business marketing. Look no farther my social media junkies; allow me to introduce you to Pinterest.
For those of you who are still unaware of what Pinterest is, here's the low-down. Launched in March 2010, Pinterest is a virtual pin board where users can "pin" pictures and videos of what interests them to boards. The social-sharing site allows you to save pictures from the Internet, magazines, blogs, etc. all in one place. Simply upload a photo by using a URL link and pin it to your board. For example, if you are interested in travel you can create a "Bucket List" board and pin pictures of the dream destinations you want to visit someday. As you can imagine, the possibilities for boards and pins are endless.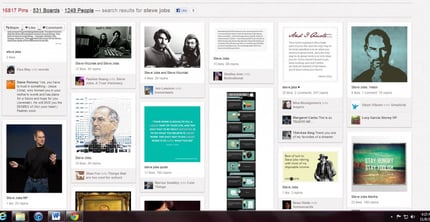 Worried to get involved in Pinterest due to your dedication to Twitter and Facebook? Not to worry! Pinners can interact with their followers and friends by simply connecting their Pinterest accounts with their Twitter and Facebook profiles. When you log-in to your Pinterest account, you are shown the latest pins from people you are following—very similar to Facebook and Twitter feeds.
So how can all of this play into your business' marketing needs? Pinterest provides a wonderful platform for businesses to be creative with social media and show your company's style. Planning a special event or campaign? Why not create boards entitled "Venues" or "Design Ideas" and pin pictures you like and will use as your inspiration. The goal is to think outside the box. The important thing to remember is that Pinterest is all about the visual. Many eyes can potentially see what your business is pinning. Don't focus on pinning your logo, and infographics only; people can see those on your social media accounts and website. Instead, be creative! For example, we at Arkovi can pin pictures of new technology that inspires our company to continue to grow and create new business solutions for our customers. We may also choose to create a "Words of Wisdom" board and upload quotes from leaders in the financial services and technology industries, or words that simply inspire our business practices. Remember, with all social media sites, the point of them is to not only interact with your customers, but to drive traffic back to your website. Don't forget to link your Pinterest account back to your company's website, social media accounts and blog posts. And for those worried about monitoring your business' Pinterest account, Arkovi can archive Pinterest account via your RSS feed.
Pinterest is continuing to grow in popularity. Recently valued at $200 million, it is expected that this social site will only continue to find its way into the hearts of social media lovers everywhere. However, it is up to us to harness it in a way that can positively affect our businesses and brands. By being creative and sharing your products and ideas, your business can get a glimpse of what customers are interested in and what trends are happening online. So what are you waiting for? Get out there and pin!