It has been a busy 2011 so far for the staff here at Advisor Websites, and we are now proud to introduce our fresh, new, client dashboard!
Dashboard Homepage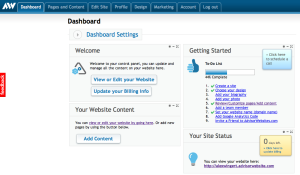 When signing in to your user account (yourdomain.com/user), the first page you will be brought to is the Dashboard Homepage. This global dashboard gives you a basic overview of some of the main features that are available to you. You can: edit content, update billing information, get support, view basic statistics, (for help setting up Google Analytics click here), and view some tips we offer through our blog. One of the most useful features we offer is the ability to edit your website while viewing it live. On the Dashboard tab, simply click on the "view or edit your website", and you will be taken to your live website, where you can easily edit your website on the fly.
Adding Content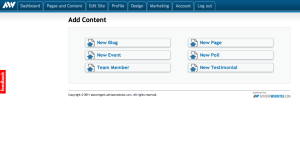 When in the Dashboard tab, clicking on the "add content" button will bring you to this page, which will allow you to create pages for your website with one click. Possible pages to add are: blog, events, team members, polls, or testimonials.
Design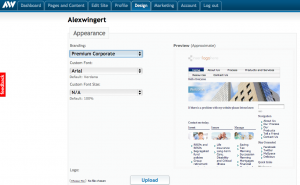 When selecting the design tab on the top of the dashboard, you will be taken to a page where you can easily select one of our 8 themes, as well as change the font, and the font size for your website. Just last month we added 3 new themes which can be viewed here.
Marketing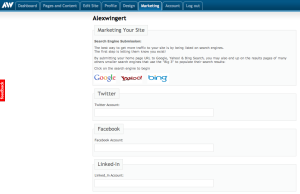 A new feature we added with this update, is the ability to do some marketing for your website from within the Dashboard. The marketing tab will allow you to submit your website to Google, Yahoo!, and Bing, which will assist you in establishing an online presence, as well as making it easier for your clients to find you. In addition to being included in search engines, the marketing tab also allows your Twitter, Facebook, and LinkedIn accounts to be accessed from your website. If you are looking for some information about getting started with one of these social networks, click here.
To find our more about our new dashboard, click here to book a demo with a member of our team, who will be able to guide you through what we have to offer.
Have some feedback about our new dashboard? We would love to here from you. Tell us your experiences in the comments below, our send an email to alex@advisorwebsites.com.