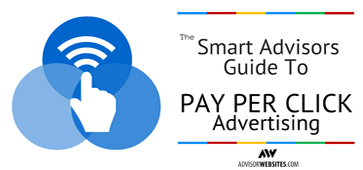 Introducing the brand new ebook exclusively for financial advisors,
PPC, Adwords, SEO...What does it all mean? We are happy to provide you with this exclusive content, with over 30 pages of information on pay per click advertising. This ebook also includes a glossary of web terms, additional information on setting up a PPC campaign, and how you, as a financial professional, can actually set up your own campaign.
In this how-to guide, we'll dive deep into a proven strategy to get your website found online: Pay-per-click. In this ebook, we'll explain what pay-per-click advertising is, why it's used in the financial services industry and some best practice strategies for implementing PPC into your web marketing strategy.
In this ebook, we'll cover:
What PPC is and why it's used
A guide for setting up a PPC campaign
Tried & true best practices for using PPC