In our last webinar of 2016, we talked about the power of imagery and what kind of impact it could have on your website. Sharing useful tools, interesting perspectives, and free resources. View the webinar recording below!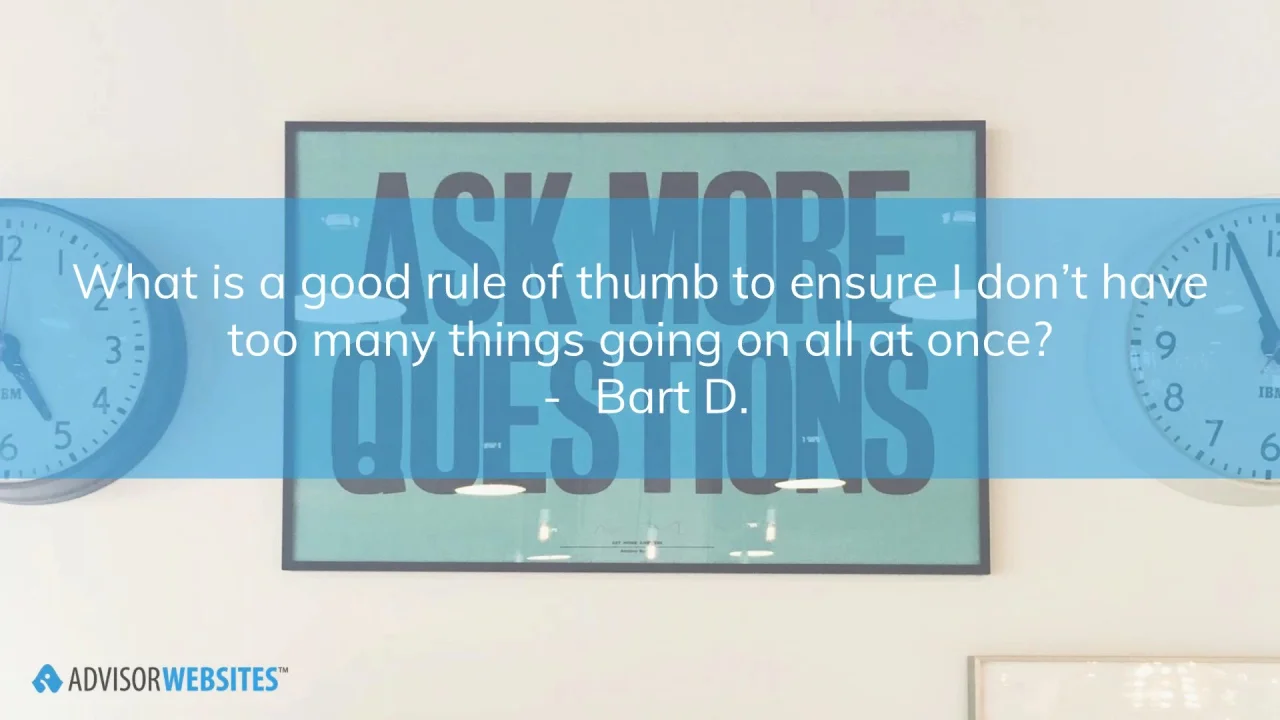 Introductions [0:29]
Hello everyone! Welcome to today's episode on Advisors Ask, the Power of Imagery. Hope everyone is enjoying the holiday season and excited for the new year. And I just wanted to thank all of you for joining us today.
My name is Sean and I am the host in today's session. I am the Marketing Co-op at Advisor Websites and I specialize in digital marketing, focusing on generating marketing qualified leads. Joining me today, we have Parker, Berk, and Lester.
Parker is a Customer Success Associate. He has helped and dealt with hundreds of clients on their websites for the last 5 years. Tonnes of knowledge and experience, if you want to build the best website, Parker is the guy you'll want to talk to.
Berk is our Marketing Manager, with years of experience in marketing, strategic analysis, business analysis, community engagement and demand planning.
We also have Lester, who is our Partnership Marketing Manager. You may have seen him around in previous webinars. Lester manages the company's online presence and has been educating professionals for years on how to maximize strong web presence.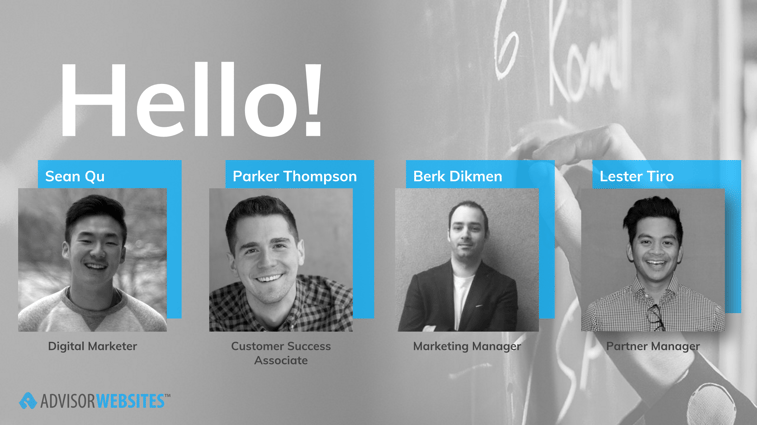 Sean Q - Visuals Can Make A Difference [02:25]
Why is it important? Are visuals and imagery THAT important? Yes, visuals are THAT important and they can make difference by...
First Impressions

[02:41] Before you read the content, you experience a reaction subconsciously to the site based on the feel and overall look. You have a first impression based on the overall look and feel of the site. Your design needs to align and support the content of what you have to offer.

Usability and User Experience

[03:04] Layout, navigation and even color can play a huge role in whether or not these things happen and how often. If your design is cluttered with poorly placed ads, or your navigation is confusing, or your colors are distracting, then your design is stopping you from achieving your goals.Ultimately, you want to feed information that will make the user convert into a client.

Boost Engagement

[03:33] Whether telling your brand or the story of the product, visuals can affect customer responses. Visuals also have the chance to go viral because it's easy to share, like and respond to graphic content
Sean Q - Your Website Should Have... [04:03]
CTA & links that are easily accessible and viewable

Menu that is not over-crowded.

We normally recommend that there is no more than 5 menu items on the website.

Visible contact info

Main services outlined in homepage.

For all the services that you provide, outline those services in the homepage in short sentences, bullet points, so that people who visit your client and get a quick grasp of what it is that you do and what you can provide for them.

Appealing colors.

This varies between situations, the design of your logo, colour of your logo, branding, etc. But some of best colour combinations are:
- White: combines with everything, especially blue, red and black.
- Black looks elegant in any combination, especially with orange, pink, salad green, white, red, or yellow.
- Gray: combines with red, violet, pink, blue.

High quality banner images
Sean Q - Resources Shared [06:00]
If you wish to read more about the design strategies that can help increase conversion rates, check out the Advisor Websites blog here.
We also have an ebook, the guide to great financial web design. Feel free to download!
Questions [07:49]

Lester T. - What banner pictures should I use to make my website stand out and look aesthetically pleasing? [07:58]
Thanks to an increase in the number of people who have access to high speed Internet and high quality monitors, web pages are becoming more beautiful than ever. As Internet speeds increase, you can use high definition images and videos on your website without worrying about the slow loading times.
A hero image is the popular large image that many website display as a header or background when you first visit a website. You can see it on some of our examples on some of our advisor websites clients pages. These hero images can convey more about your business in seconds than just text alone. They give a sense of your practice's personality and purpose, your office space, and even your team while also adding depth and engaging aesthetics. The hero image really helps make your website colorful and appealing to the eye.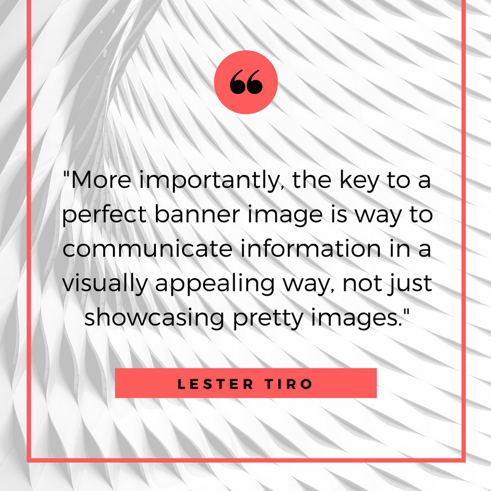 For images to use, I recommend using images of your location, beautiful pictures of your city to give a familiar sense of your locations to your visitors, pictures of your team, or even just pictures that help you captivate the message you want to portray. It really depends on the text that goes with the image.
Pros:
Modern, personal, and inspiring design
A perfect way to immediately engage new clients.
Cons:
Picking the wrong image can be confusing and dilute your messaging.
Parker T. - What requirements are there for images on my website? [10:21]
Well-selected images are likely the easiest way to dramatically improve the quality of your website. Here are my four guidelines for selecting a quality image:
Quality:

Choose high-quality images to be worked with. We can always size images down without losing quality, but not the other way around. As a rule of thumb, images that are 2000 x 1300 pixels or larger will work well.

Focus:

Pick images where the focus is in the center. Responsive websites on our platform tend to crop from the sides as you size down to smaller viewing devices. Images with focus in the center will look best on all devices.

Unique:

Choose images that are unique to your branding and business. Images of your local area or visualizations of your company's values are a great way to reinforce your unique voice on your website.

Emotion:

Above all, you want to invoke an emotional reaction in your user with the website's imagery - incorporating beautiful scenes or relatable people into the images are a great way to do this. What is it that you are offering your clients? Can you convey your offer in the images?
Berk D. - What kind of visual aids can I use that will best assist my website? [14:25]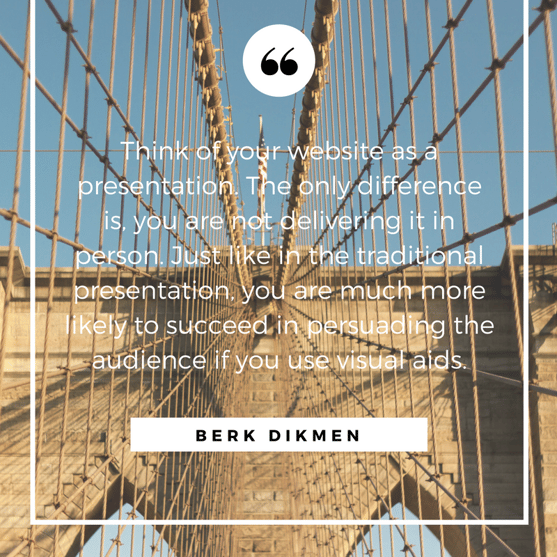 Personally, I have two favorites for the homepage; hero banners and videos. Mentioned earlier, the hero banner is a big part of your website, if you choose to go with one. Assuming you include a really nice and relevant image, not only will it catch the visitors' eye but also make them associate your business with the problems they're trying to solve. If you work with retirees for example, an image of a senior couple relaxing on a beach could be what you need.
My other favorite is the videos. Recent studies show that videos are more effective than static images. The catch here is you have to be much more picky and careful when deciding on what kind of video you want to have play or loop on the homepage. If you get this wrong, it's almost guaranteed to perform worse than a static hero banner. Video is the high-risk high-reward choice.
For other pages on your website, I'd recommend graphs, charts and infographics in addition to images. And videos where you need them; for example, you could consider putting up interviews or commercials or your elevator pitch on relevant pages.
Lester T - What is a good rule of thumb to ensure I don't have too many things going on all at once? [16:21]
With 3 seconds to impress – prospective clients with your financial website, your layout has a lot of say - these are some 3 tips for your consideration.
White Space
White space is anything but wasted space."white space is to be regarded as an active element, not a passive background."
If the layout on your website doesn't make good use of white space, your readers will have a harder time focusing on what's important.
F Shape
In terms of how you put your written content into your white space, it should loosely follow an F-shaped pattern. Back in 2010, the Nielsen Norman Group performed an eye-tracking study to watch how users interacted visually with websites. What they found was that eye movements generally tracked in the shape on an F. Readers make two horizontal eye movements from left to right, and then scan the content's left side downwards, creating that F.
What this means is that you should put the essential information about your advisory, brokerage, or you, in the first two lines or paragraphs. Also, make sure that your content is scannable – hardly anyone reads word for word anymore.
Don't forget that your layout also needs to make logical sense, not just visual sense. It's all good and well if you have plenty of white space and your text in the shape of an F.
Lay Out Every Page Like a Landing Page
Landing pages are designed to make your web visitor take one specific action, whether it's download an ebook or book a meeting. Obviously your homepage has a few more goals it needs to do, but the landing page takeaway is the 'less-is-more' approach.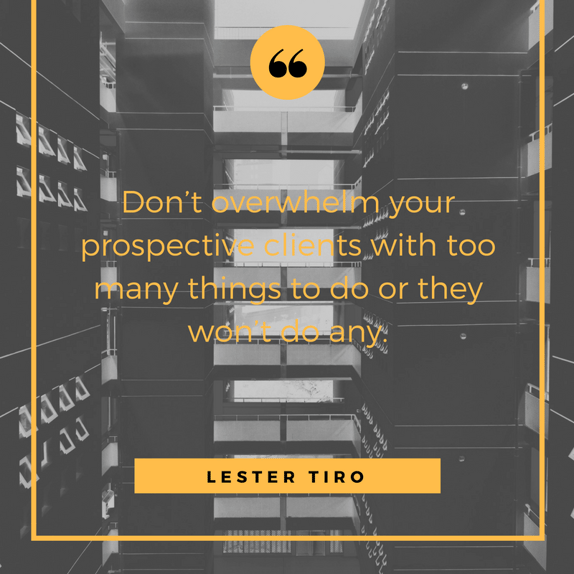 Berk D. - What are the different types of call-to-actions and how can each of them benefit my website? [18:45]
We've noticed that a common misconception is that website owners think that a call-to-action (CTA) is a button, and only that. Well there are multiple types of calls to action that can be utilized. Starting with the obvious, lead generating CTAs are perhaps the most important. Examples of a lead generating CTA include "book an appointment", "download ebook" and many more. The benefit here is that whoever goes ahead and clicks those buttons will be considered a qualified lead, depending on how you sort and score leads. This type is the most straightforward type, as visitors will be aware of what they're dealing with.
Another type is the form submission CTAs. At this point, the visitors are very close to becoming a lead if they haven't done so through other means. The benefit here is these CTAs can transform the visitors' curiosity into a lead for you. Keep in mind however, that using a lackluster "submit" button is more likely to fail compared to an incentivized button such as "download your free whitepaper."
Another CTA type you could use is the "read more" or "learn more" type of CTA. When you post something on your homepage, you probably do not want to include the whole post or the article as you don't want a wall of text cluttering that section. What you can do is include a snippet of the post and direct visitors to the complete text through a "read more" button. The benefit here is that people will have to click through to read any post instead of scrolling down on the homepage, which ensures that the post itself gets credited with its own traffic, not the homepage. Always good for SEO - your google ranking in other words.
The 3 I mentioned being the most important, there are couple more CTA types. These include social sharing (Facebook, Twitter, LinkedIn, etc.) event promotion and more. Depending on your business model and what you offer, there's almost always a benefit from using multiple CTAs when done properly.
Lester T. - What are some third party tools I can use to design graphics without spending too much money? How should I be building the graphics or instructing the designer to make them? [21:58]
If you have zero experience in design and lack of creativity - there are certainly free tools you can use online that provide you with template graphics and design that you can use for you newsletter marketing, email headers, social media, posters, or even images for your website.
The two free tools that I recommend are:
Canva: All you need is an email address and you can create an account to start designing. At the beginning, you have the choice to pick if the graphics should be tailored for work, personal use or social media. There are templates preloaded for the project you choose to tackle. Canva also includes a quick tutorial to get you started. It's so easy to use, there is a large library of photos to pick from, or you can upload your own. There are templates for Facebook posts, blogs, business cards, presentations, twitter and more!
Visme: If you are looking to create interactive presentations, infographics and other engaging content, Visme is a tool you should consider. With a number of template selections for infographics and presentations, you can easily create a graphic without any design experience.
If you need more information on these tools - check out our blog here!
Now if you need to create logo - I suggest going local and finding a graphic designer in your region. This way, you can meet them personally, sit down and have a conversation of what sort of logo you are looking for. That way there will be no miscommunication.
If this is not an option, I recommend using 99 designs, thats 99 designs dot com where you can outsource your graphic design to designers around the world.
Berk D. - What kind of graphics or visual aids work best on the different social media platforms? (Facebook, Instagram, twitter, LinkedIn) [24:35]

Images and videos. These are the 2 most powerful tools you can utilize when managing your social presence. Even better if accompanied by some text. But there's more at your disposal.
There are usually three major reasons why people are surfing through social sites at any given time, they're just killing time, catching up with the world or they're looking for information on something. While your target audience could belong to any of these groups, the ones looking for information are more likely to convert.
Just like your website, the social sites are places where you can impress and entice people into considering your services or products. The more information you give them the better. Again, just like your website, feel free to put up infographics, charts and graphs here (make sure they're compact though). You can also use status updates as visual aids if you add images, be it a photo or clip art. Maybe this is just me, but I feel clip art can be super effective when used properly because you have the freedom to create exactly what you want.
Now, for graphs, including advanced-calculus graphs won't do you any good here. You absolutely have to make sure that the graphs and chart you put up are simple, easy to figure out and do not require the viewer to solve a math problem. Stick to what you think your audience is having trouble with, and you'll see results. For example, a simple bar graph or a pie chart about what people want to do with their money after they retire is a good choice for Financial Advisors specializing in that area. It'll create that connection between your business and the audience, without forcing them to solve for X.
So, the simpler the better.
Parker T. - How can I set a good first impression when somebody finds my website? [27:31]
First impressions are so important in this day as there is more and more fighting for our attention. Here are my 3 recommendations for nailing that first impression when somebody visits your website:
Pick a strong hero image:

Use a large, visually striking image to set the mood of your website - users pick up on this before anything else. Refer to my details in Brad's question above about image requirements for details.

Set a value proposition:

Write a sentence or two that describes your unique offer to clients and display that on the homepage for the first impression. Over the hero image or just below it are great places to put this.

Direct the user experience:

Now that a user has opened your website, where do you want them to go? Maybe you want them to download a whitepaper, maybe you want them to visit your blog, or maybe you want them to fill out an interest form. Decide where you want users to go next and direct them there with a well-placed call-to-action on your homepage.
Parker T. - How much content should I have on my website? [30:26]
Most advisors instinct is to put as much about their business on their website as they can, but this isn't necessarily best. Too much information can confuse the user and water down the effective content on the website. Simple and concise is always most likely to translate on the user's end.
You want your website to show the user that they can trust you and your business.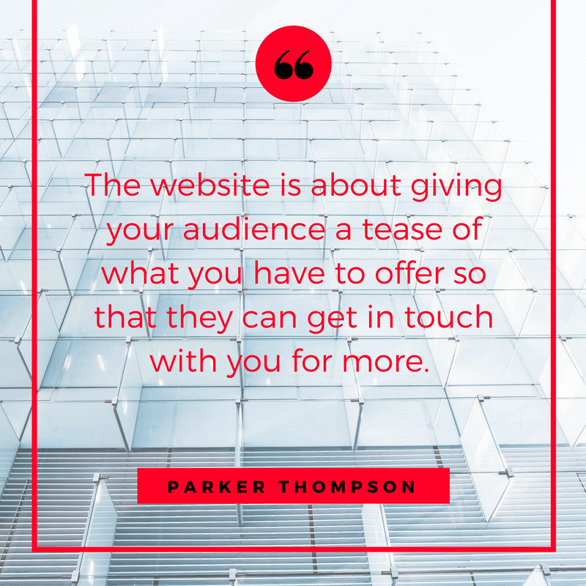 Parker T. - I currently have a non-responsive website. I want to upgrade to a responsive website but it seems expensive. Is the jump in price worth it? [31:59]
Having a responsive website isn't just a luxury - it's absolutely necessary.
Non-responsive websites were created only with traditional web browsers in mind. Responsive websites, however, are designed to adjust for optimal viewing on every kind of device. With the number of people viewing websites on tablets and mobile phones, this feature is absolutely essential.