We got Steve and Jamie Kaestner on the phone from IronHorse Wealth Management to discuss their experience working with Advisor Websites. Well, they made us blush a little. Not only were they just so much fun to work with, Jamie was so organized and, quite simply, made our job pretty easy. Here's what IronHorse Wealth Management has to say about Advisor Websites. You can find out more about the firm on their excellent advisor website.

1. When choosing a website provider, what qualities were most important to you? Why did you choose Advisor Websites?
Due to past experiences, it was really important to us to have a website that was not only customizable but was also easy to manage. Our old website was so difficult to update and change that only one of our employees was able to edit it and when she left we were left in the dark on how to do anything with it. We chose Advisor Websites because they were able and willing to customize the website to our liking. The designer we worked with, David, messed with all the formatting and entering information so now all we have to do is go in to edit sections when necessary. I cannot begin to explain how much easier this has made our lives.
2. Describe your experience working with David to build your site. Did you have a clear idea of what you wanted your website to look like?
David [our production coordinator] was absolutely phenomenal. When we first started working with David we were not exactly sure what we wanted. We knew we needed a website that was not only professional but would also help create a stronger online presence. David gave us several different websites to look at and we basically "shopped" on all of them and told him the things we liked and did not like and he put it all together for us.
3. How has your website helped you achieve your marketing goals (or where does your site fit into future marketing ideas)?
Embarrassing for us, but we were actually averaging 0 visitors to our site per month before using Advisor Websites. I contribute this to several factors, one of them mainly being that we were unable to update or change the site and also because there was no reason for people to visit our site unless they needed our phone number. On our website now, we post blogs and news articles that are continually bringing in traffic to our site, in fact, during our first month we had 206 visitors and over 700 page views. While this may not seem like a lot to some people, coming from a site that had literally no views, this was a huge improvement for us. However, the best thing to come out of our first month was actually bringing in a new client. Our now client said he was given three different financial advisors to consider and decided to make an appointment with us based off our website and the information he was able to accumulate from it. One of the things we wanted from using Advisor Websites was a better online presence and we are certainly pleased with the results thus far.
4. What kind of feedback have you gotten from your new website (from colleagues, clients, friends or family)?
The feedback we have gotten from clients, friends, and family has been nothing but positive. We have heard everything from how easy it is to navigate our site to how much people have enjoyed reading the articles we have posted. We have had several clients take advantage of the "quick message" feature to submit questions for our newsletter and just to offer positive feedback. Another one of the things that people have really enjoyed is the mobile version of the site so that they can access it easier on their iPhones and iPads. Overall, our new website has helped us form another medium of keeping in contact with our clients while also marketing to potential new clients.
5. What's the most important thing you think other people should know about your experience with Advisor Websites?
Advisor Websites made it extremely easy to create a website that would actually draw clients and prospects to our site and keep them coming back. They have an extremely helpful staff and also provide access to webinars and training videos that made the entire process very easy and smooth.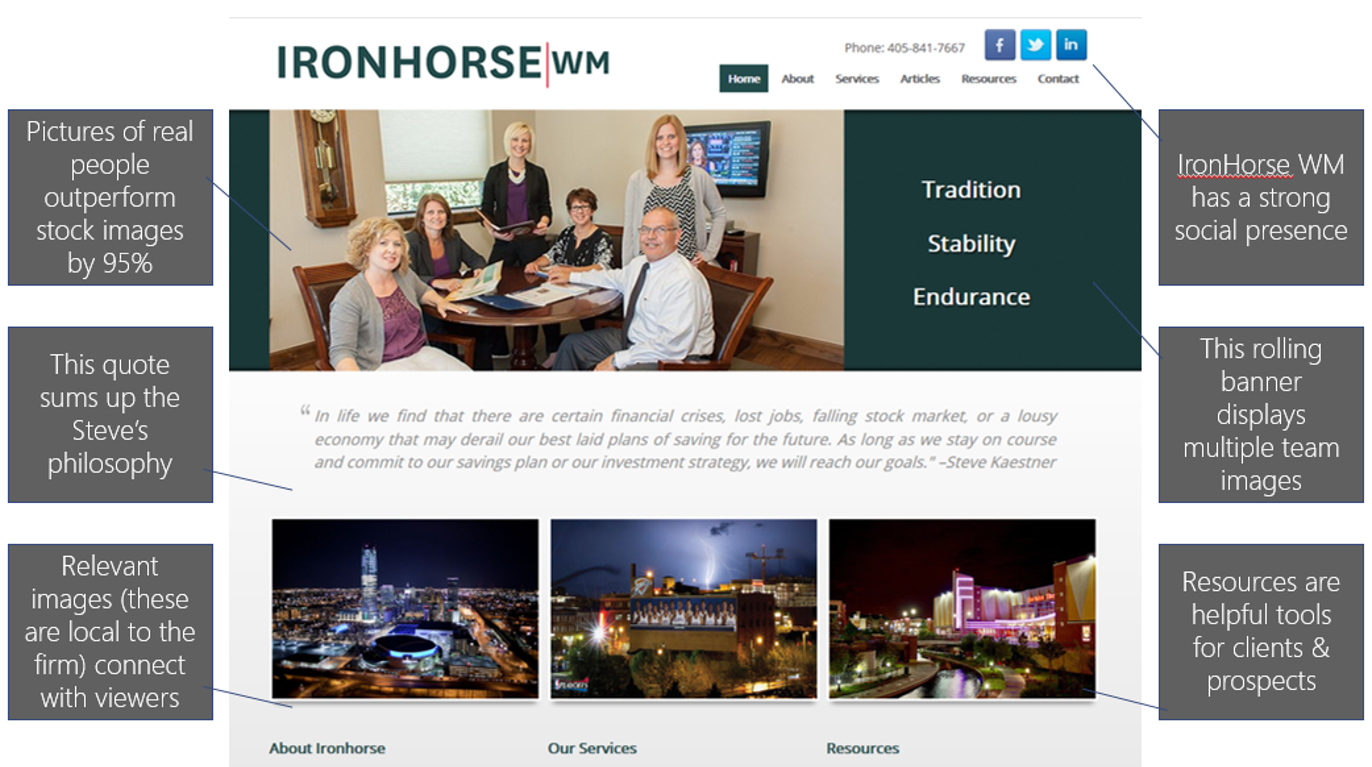 Here's a quick breakdown of the homepage of IronHorseWM. We love the easy, clean navigation menu and the social media icons that lead web visitors to connect with the team across a few different channels. This website utilizes powerful, relevant imagery and pictures of the team.