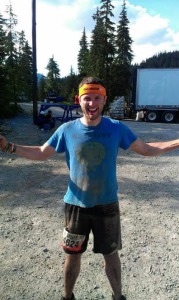 Name: Michael Joy
Nickname: Mike, Mick, Joyful
Position: Head of Support and Customer Success Team Lead
What do you do for fun?
I am keen long distance runner and I try to run up to 50 KM a week.
What's your favourite book?
The Road by Cormac McCarthy is my favourite novel and Open by Andre Agassi is my favourite biography.
Favourite quote?
"I had no say in the matter. Every moment in your life is a turning and every one a choosing. Somewhere you made a choice. All followed to this. The accounting is scrupulous. The shape is drawn. No line can be erased. I had no belief in your ability to move a coin to your bidding. How could you? A person's path through the world seldom changes and even more seldom will it change abruptly. And the shape of your path was visible from the beginning." - Anton Chigurh, No Country for old Men by Cormac McCarthy
What does your ideal day-off consist of?
A morning run, watching Manchester United win, a nice lunch, meeting up with some friends and a few pints!
Anything interesting on your desk at work?
I have been sitting on a exercise ball instead of a chair for nearly 2 years!
Hardest 'Would You Rather' you've had to answer:
Would you rather be a professional football (soccer) player or musician?
Cartoon you watch as an adult, and why:
South Park – brilliant social comedy that can really put a mirror up to the absurdity of major influences on our lives.
Best culinary dish:
I make some mean wraps in which I make my own salsa!
Why do you like working at Advisor Websites?
The company culture is amazing and this breeds innovation with our product and services which is really exciting.
Any hopes and dreams for the future?
I want to travel a lot more and see some really cool places. I have neglected this a bit and there is so much to see in the world.
3 tips for advisors:
Listen to our advice about your site - from your PM during production, to the support team and the blog. We are here for your best interest and we want you to succeed.
Update your content as much as you can and share it as much as you can. Your blog posts do not have to epic in length. Imagine answering a question to a client in the most direct way with all the facts. For social media, do not worry about sharing the same link 3-4 times a week. It's about getting the great content you wrote out there as much as possible. The biggest companies do it, why not you?
If you are on a compliance workflow, plan your content in advance. We've run into many occasions where a client wants an update made to their site for the following day but it has to go through compliance first, which can sometimes take 2 weeks. Even if you're not on a workflow, plan your content.