Increasing your digital footprint has potentially great business ramifications. More followers, likes, and web traffic simply means more people are interested in what you say and trust you as a source of interesting and credible information.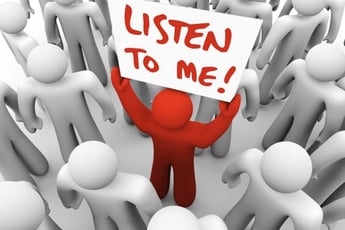 One of the best ways for achieving this success is by establishing yourself as a reliable brand. Although there are some regulations with compliance that often need to be followed, branding allows a digital record of your success to be seen by clients and future clients to come. It also has the potential of laying the groundwork for future pursuits in the financial industry.
Ultimately, the best way of improving your online influence and clout is through these two approaches:
1. Humanize yourself - Humanize your business
Dear Sir or Madam... Chances are however good the rest of the email post is, you were slightly put off by the automation of the to line. You are not a robot, make sure your brand is not one either. A simple way of incorporating a human side to your business is through the bio. Weather it is on your advisor website, or your social media profile, including relate-able information about yourself is a great way of solidifying your brand in a region or area of expertise. For example, as we are located in Vancouver, Canada and have an abundance of mountains at our disposal, a lot of us are avid skiers and snowboarders. It is a great piece of information to include because it allows for conversations to be started with clients and prospects.
However the downside is providing too much personal information about yourself. Just as you probably loath sitting through hours of pictures of someone's vacation, over-sharing is not recommended. Keep it casual and strategic. But most importantly once you've developed a public brand, keep it consistent through all channels.
2. Content, Content, Content
I feel like content is becoming a dirty word because we push it so much, but it's only because we want to see you succeed! Ultimately content is going to bring the results you want to see. But there are two strategies that should always be on your mind when curating it: a. know what platform you're writing on and b. know who you are writing for!
I know this may feel a little obvious, but keeping in mind the platform can be instrumental in expanding your digital footprint. People don't come to facebook to see 500 word opinion piece. They come for update, links and common interests. Keeping the platform in mind will help your content to attract visitors to return, instead of being put off by poorly targeted content. Share what you know and what you love and people won't have a choice but return to see what you've created.
Keeping the client in mind is also crucial in creating successful content. If your audience is older and perhaps doesn't understand current tech trends, discussing html coding will probably be an unsuccessful content topic. Writing to a specific audience instead of a general audience will help solidify your personal brand.
As previously mentioned, we believe that personal branding can lead to success in career development. This is because having a good digital footprint is like having a portfolio of experience on hand. Ultimately the best marketing starts with yourself. If you can create a brand that is trusted and recognized on a personal level, translating these techniques to a business setting will help your business grow.
PS – Our Holiday Handout begins is on its second week! For six weeks leading up to Christmas, each brand new Advisor Website client will be entered to win a cool, amazing and awesome prize!
Every Friday from November 15 – December 20, advisors who sign up with Advisor Websites will be entered into a weekly a drawing where we'll be giving away prizes from awesome gifts like Omaha Steaks, iPods, and golf accessories.
Don't worry – if you're a client and already have an Advisor Website, you can still be entered into the weekly drawing. Refer us to a friend - when your friend signs up for an account, you'll both be entered to win!
Click here to learn more about Advisor Websites Holiday Handout!