A lot has changed since Advisor Websites built their first website for a Financial Advisor back in the early 2000's. Starting out as a web design agency, we quickly saw the unique requirements for Financial Advisors.
Word traveled quickly about us being the 'go-to' provider for Financial Advisor websites in Vancouver... then Canada... and it didn't take long until we expanded into the U.S!
AdvisorWebsites.com was created and we never looked back.

Original Advisor Websites logo
When we launched our new and improved 'Force' website platform in 2017, we whipped up a new logo as we wanted to jazz up the brand to make it more modern. That was the extent of our thought process. We changed the icon (fun fact: it still has an 'A' and a 'W' in there) and tweaked the blue. It was definitely a step forward for a more modern logo.

Force logo (2017)
With all the growth we have experienced, we decided it was time to update our brand to reflect who we really are.
We thought about a few different things that make us unique. Yes, we build amazing websites. Yes, we have an excellent reputation in the industry. Yes, we continue to improve our product offering to benefit Financial Advisors. Beyond these strengths, our standout point of difference is that we are real people who love to help our clients. Our people are who make Advisor Websites so successful and is the cherry on top of why our clients enjoy working with us. Try calling our in-house support team and you'll feel the A-Dub family love!
We sat down and put together a 'new brand' wishlist:
Steer away from the corporate blue/grey of the past
Incorporate 'Marbles the Moose' (to avoid having a separate mascot)
A modern and clean logo that is unique
Brand colours that reflect who we are (aka fun colours)
Keep the history that people know and love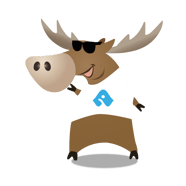 Marbles the Moose
The rebrand was done in-house, utilizing our extremely talented team of designers. They came up with a new logo that not only has AW as the icon to keep our history, but it incorporates Marbles ('A' is the head and 'W' are the antlers)! Mind. Blown. We were very impressed with what our designers came up with.

Ta-da! The new logo.
The new colour palette was inspired by our home town of Vancouver, British Columbia:
Gorgeous English Bay sunset in a breezy summer night. Most people might just call it… orange.
Northern lights in the dark… also called deep blue, or navy.
Improbable cloudless British Columbian winter sky… sky blue
Vancity sky... nothing to add…it's just grey

Vancouver Inspiration; Orange (English Bay, Vancouver), Navy (Northern Lights), Blue (clear winter sky, Cypress Mountain), Grey (classic rainy Vancouver)
The future
As busy as we have been with the rebrand, we are dedicated to continuous improvements across our platform. Some of the exciting things that we have been working on behind the scenes include streamlining compliance, improving the accessibility of our platform, and increased speed and security. We will continue to grow, evolve and improve Advisor Websites to become THE place for Financial Advisors to go for digital marketing.

We are excited that our new branding is complete, and we hope you enjoy the new and improved look, with the same top-notch level of service that you are used to! Thanks for being part of our journey so far!