An About Us page for your financial planning website can really set you apart from your competitors.
As more and more business is conducted online, it's becoming increasingly important for financial planners and advisors to treat their websites as virtual welcome mats. Even if you're still doing in-person business, it's common for consumers to conduct online research before making a financial commitment.
Sharing details about your business, your team members and your company culture can help build credibility and earn the trust of your potential clients. Here are some tips to help you create the perfect About Us page for your financial planning website.
1. Lead with Your Value Proposition
In order to capture the attention of your potential clients, you should highlight your value and what you offer at the top of your About Us page. Users often leave web pages within 10 to 20 seconds, so you should try to clearly communicate your value proposition within the first 10 seconds of looking at the page.
Ask yourself: How can you help your clients solve a problem or achieve a goal? It's important to make your value proposition about the client and not about your business. Instead of just listing the services you offer, tell readers how you can help them. Answer that Marketing 101 question they'll invariably be asking themselves: What's in it for me?
2. Introduce Your Team
Whether you're a one-person show or a team of professionals, you should use the About Us page to introduce yourself and your team. If you're comfortable with it, use real photos of people on your team. This is a chance for you to clearly communicate that you're not just a faceless business, but a group of real humans. Make it easy for your potential clients to imagine what it will be like to work with you.
Introduce yourself with a short bio that details your educational background, experiences and some personal information or interesting facts about yourself. If you're looking for more ideas for what to include in your and your team's bios, check out these biography templates for financial advisors.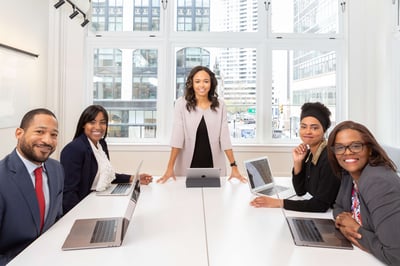 This is a great example of a team photo. You can tell what they do (hairdressers) and it's a bit more fun that your traditional, suit-wearing, non-smiling team photo. You can find the balance between having fun and remaining professional.
3. Tell Your Story
As humans, our brains respond to storytelling through a process called neural coupling—neurons firing in the same pattern as the storyteller's. This makes messages delivered as stories up to 22 times more memorable than other methods.
In order to make your company memorable, use your About Us page to tell your story. To make it engaging and compelling, leave out generalizations and instead focus on interesting details that make your financial planning business unique. If you're not sure where to begin, here are some prompts to get started:
How did you come to be?
What inspires you and your team members?
What are your core values and how do you demonstrate them in your work?
Who do you provide services to and how do you help them?
What sets you apart from other financial advisors and services?
4. Provide Contact Information
Your About Us page is also a good place to list your contact information. While many websites use automated contact forms, 51% of people think that thorough contact information is the most important thing missing from company websites. Use this page to share specifics about your financial advisor business, like:
General inquiry email and phone number
Address of office(s)
Map with office location(s)
Hours of operation
Calendar with available meeting times
Even if you already have a Contact Us page on your website, you can always include additional information about your business on your About Us page. Providing users with multiple avenues of contact throughout your website will allow potential clients to reach out to you with ease.
Writing content for your website can be an overwhelming task, but we're here to help. Our

Website Copywriting service

makes it easy and convenient to develop an engaging financial planning website.
By following the above tips, you're on your way to having an About Us page on your financial planning website that will make your the advisor of choice over your competitors.
For more tips about your website, check out the following resources we think you'll love:
---
WHO ARE WE?



At Advisor Websites we help financial advisors grow their business and enhance their digital marketing strategies with their own personalized website. Our platform offers a selection of effective and proven frameworks that are personalized to reflect your business and brand.