4 Tips to Help You Effectively Manage Emotional Clients
Most financial advisors will inevitably have those one or two clients who are highly strung, emotional, or hot headed. Even in the best of times, these types of clients require a more careful approach when discussing a sensitive topic such as personal finances and future outlooks. A global pandemic provoking a market crisis is sure to stir up emotions even in the calmest of clients.
A CNBC article reported almost 9 in 10 Americans are feeling anxious about money during the coronavirus pandemic.
The article also states that 41% of surveyed Americans are worried about their savings, 23% worried about retirement, 48% worried about paying bills, and 39% are worried about job security.
Someone feeling financial stress may project their negative emotions onto their financial advisor. After all, you're the professional they've hired to manage their money. This also gives you the opportunity to show them why they hired you, by demonstrating your knowledge and expertise, and providing them the comfort they need at this time. That being said, it takes skill to talk to someone who is running high on emotion. Here are four tips to help you effectively manage your emotional clients throughout the coronavirus pandemic.
Tip #1 - Demonstrate a Calm Demeanor
It takes practice, but demonstrating calmness even when talking to someone emotional will do wonders for turning it around. One of the biggest benefits of staying calm is that you won't rile up your client further by getting emotional yourself. Remaining calm helps your client mirror your emotions which will help calm them down too.
Whatever you do, do not tell your client to "calm down". No one likes to hear that when they are upset, and it generally has the reverse effect!
Tip #2 - Acknowledge Their Feelings
When someone is upset and actively showing it, what they're looking for is acknowledgement of their feelings. Be the sounding board for your client and allow them to express their concerns, regardless of how emotional they may get in the moment.
Here is some language you can adopt to show your acknowledgment:
"I understand why that might be stressful."
"I get what you mean."
"It's very normal to be upset by this and you're not alone in feeling this way."
Tip #3 - Active Listening
Active listening is the method of listening with more than just your ears. What does this mean? It means that you are showing that you are listening.
Here are some active listening techniques for you to utilize when talking to an emotional client.
Nod your head.
Take notes to refer back to.
Repeat things back to your client to make sure you understand.
Ask questions to clarify further.
Don't interrupt.
Don't get distracted by your phone or anything else around you.
Tip #4 - Develop an action plan
Once you've taken the time to hear your client out and provided some comfort, it's time to create an action plan. This is an important step in proactively addressing a situation that may feel out of control to your client. Knowing what steps can be taken to alleviate the root of the problem is extremely beneficial to the person who is upset. It's also win-win as you as an advisor have an action plan to follow to help your clients.
Once the action plan has been developed, keep your client informed as you work through the steps. Communication is key throughout the process as it will help ease ongoing anxiety your client may have. During uncertain times, don't worry about over-communicating - more is more! Ensure that your updates are relevant and timely without repeating yourself, and your client will feel at ease as times goes on.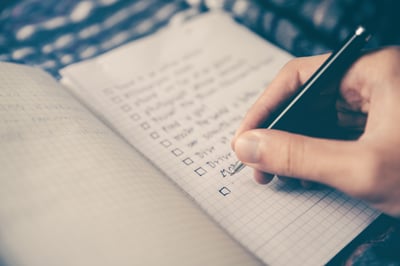 With so many people feeling financially stressed during this time, following these tips to help you effectively manage emotional clients will also help you retain your clients once the coronavirus pandemic is over. For further reading on why people fire their financial advisor (and how to avoid it), check out this Investopedia article.
---
WHO ARE WE?
At Advisor Websites we help financial advisors grow their business and enhance their digital marketing strategies with their own personalized website. Our platform offers a selection of effective and proven frameworks that are personalized to reflect your business and brand.
For a personalized one:one demo & to see our platform in action: